<![if !vml]>

<![endif]>
<![if !vml]>

<![endif]>
<![if !vml]>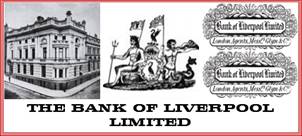 <![endif]>
Here is another quite imposing, if somewhat scary looking corner site: the Bank of Liverpool's Aigburth Branch, opened in 1903. A corner entrance is almost a trade mark of Bank of Liverpool, and it is of course one of the earliest known and most effective methods used by all banks as a kind of "free advertising" only pay one lot of rates, but your business can be seen in TWO streets at once! Of the many uses that Martins Bank's Branches are put to in the twenty-first century – betting shop, public house, hair salon and estate agent to name just a few – Bistro and Wine Bar is, we feel, on this occasion a dignified use for Aigburth.
<![if !vml]>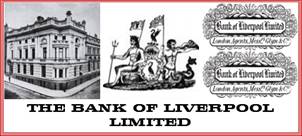 <![endif]>
This next image of the Branch shows a busy scene in Aigburth circa 1940, when Liverpool Corporation Tramways was still one of the quickest and best ways to see and move around this beautiful and sprawling Northern City. World War Two will of course leave terrible scars, and the National feeling towards the vicissitudes of the London Blitz means that for years the true effects of the Liverpool Blitz would go almost un-noticed outside the City. Aigburth remains open throughout the second World War, and survives the 1969 merger with Barclays. Our editor installed new computer equipment there in 1989, and the doors did not close for the final time until the Summer of 1998.
<![if !vml]>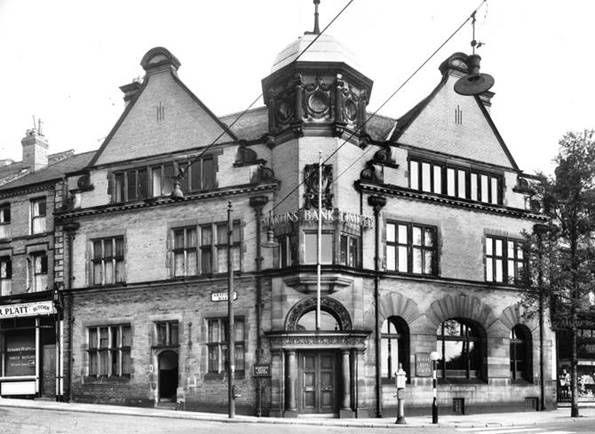 <![endif]>
For our Aigburth feature, we return to the day after the August Bank Holiday of 1965, to find Mr Lord, Manager of the Branch since 1956, hanging up his Bank tie after a very long career indeed.
In Service: 1903 until 5 June 1988
<![if !vml]>

<![endif]>
<![if !vml]>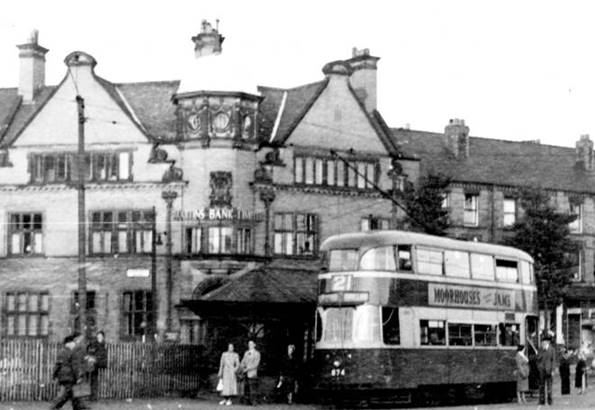 <![endif]>
Image © Barclays Ref 0030/1655
<![if !vml]>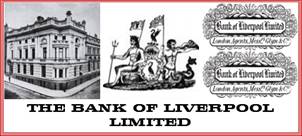 <![endif]>
<![if !vml]>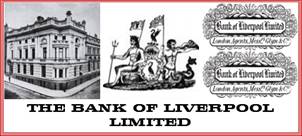 <![endif]>
<![if !vml]>

<![endif]>
Image © Martins Bank Archive Collections
<![if !vml]>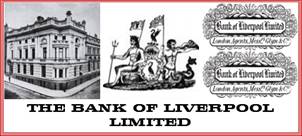 <![endif]>
Note that even in 1965, there is the use of the words "Mrs Lord, accompanied by her two daughters".  In Twenty-First Century relationships, we would probably take this to mean that Mr Lord was perhaps not the father of these children. However, what we are actually seeing here is the rather pompous and sexist attitude – still prevalent at that time – which meant that sons were "his", and daughters were "hers". Unless these children were lucky enough to try the new life of the teenager, they were destined to become clones of the relevant parent from around the age of 13!
<![if !vml]>

<![endif]>
<![if !vml]>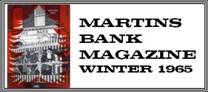 <![endif]><![if !vml]>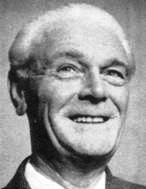 <![endif]>stephen foster lord retired as Manager of Aigburth branch on 31 August when 30 colleagues and customers met at the branch to wish him well. The Assistant District Manager, Mr W. O. Davies, spoke of Mr Lord's 44 year's service which began at Ulverston in 1921. In 1926 he moved south to Liverpool working at several branches and serving as Clerk-in-Charge at Speke and Hunts Cross branch during the war. His appoint­ment to Aigburth came in 1956. After thanking Mr Lord for his loyalty Mr Davies presented him with an easy chair on behalf of subscribers.  Mrs Lord, accompanied by her two daughters, was handed a bouquet by Miss Margaret Brown after which Mr Lord thanked his friends for their gifts and spoke of the happy atmosphere at the branch and the good relations with customers. He concluded by handing his successor, Mr J. S. Paton, the branch keys and inviting his guests to enjoy the refreshments provided.
<![if !vml]>

<![endif]><![if !vml]>

<![endif]>
Title:
Type:
Address:
Index Number and District:
Hours:
Telephone:
Services:
Manager:
Martins Bank Limited 11-06-00 Liverpool Aigburth
Full Branch
301 Aigburth Road Liverpool L17 0BW
2 Liverpool
Mon to Fri 1000-1500
Saturday 0900-1130
051 727 2432
Nightsafe
Mr D G D Bosworth Manager
Liverpool 7 Water Street
1903
18 December 1918
3 January 1928
15 December 1969
5 June 1998
Opened by the Bank of Liverpool
Bank of Liverpool and Martins
Martins Bank Limited
Barclays Bank Limited 20-50-61 Liverpool Aigburth
Closed
Liverpool Aintree