<![if !vml]>

<![endif]>
<![if !vml]>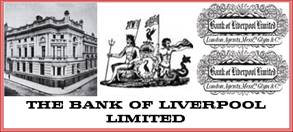 <![endif]>
<![if !vml]>

<![endif]>
The long and winding road…
<![if !vml]>

<![endif]>
<![if !vml]>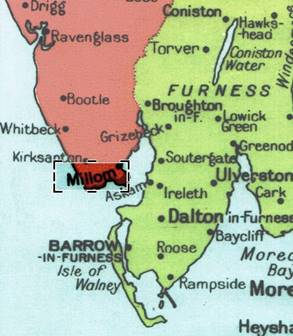 <![endif]>
<![if !vml]>

<![endif]>
The Furness Peninsula is staggeringly beautiful, and incredibly varied – from the dangerous quicksands of Morecambe Bay, to the delightful Duddon Valley and the bleak western coastline, the area is both intriguing and challenging.  The biggest challenge for those of us who have been posted on relief to the many branches and sub branches in the area, is the long and winding road to Millom, the furthest outpost that Martins Bank operates in the county of  Cumberland. 
In Service: 1894 until 1986
<![if !vml]>

<![endif]>
<![if !vml]>

<![endif]>
Image © Barclays Ref: 0030/1913
<![if !vml]>

<![endif]>
Just when you feel that you must surely be getting there, you realise you are only half way.  A rainy day can double the journey time, and not even a fairground roller-coaster would be so unforgiving in its twists, turns, and sheer drops.  Martins Bank's branch at Millom has two sub branches serving the village of Bootle.  This unusual state of affairs is caused by Bootle's railway station being a significant distance from the village, making a branch in both locations a useful addition to Martins' helpful service in the area. Very imposing but somewhat difficult to photograph, Martins Bank's Branch at The Square, Millom has been parent to a number of sub-Branches over the years, including two Agencies which operated at the turn of the twentieth Century…
<![if !vml]>

<![endif]>
Queen's Gold Medal…
<![if !vml]>

<![endif]>
<![if !vml]>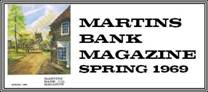 <![endif]>Guard at Millom branch, Mr J. L. Moyle, has been awarded the Queen's Gold Medal for long service and good conduct in Millom's fire service. Mr Moyle, who joined the voluntary fire brigade in 1947, received his award from the chairman of Cumberland County Council Fire Brigade Com­mittee at a presentation in December.
<![if !vml]>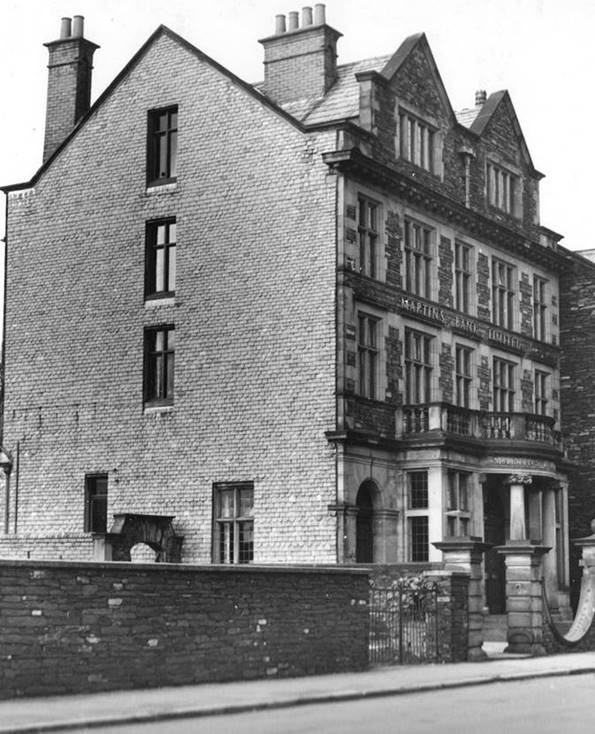 <![endif]>
Forty-Three Years of Service…
<![if !vml]>

<![endif]>
<![if !vml]>

<![endif]><![if !vml]>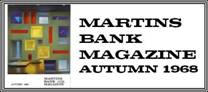 <![endif]>entering the Bank during the General Strike and retiring amid the upheaval of the railwaymen's 'go slow' Norman Darvell completed 43 years' service at the end of June. Mr W. O. Davies journeyed to the Miners Arms, Silecroft, to present, in cheque form, an electric lawn mower which had been subscribed by many friends and colleagues, some twenty of whom were present at the pleasantly informal function. Many others unfortunately were prevented from attending due to balance work. Mr Davies thanked Mr Darvell for his loyal service over so many years and wished both him and his wife better health in their well-earned retirement, not forgetting some happy hours of lawn mowing. Mr Darvell began his career at the top - Alston branch, 1,000 feet above sea level - and subsequently served at branches in the Northern District, under­taking the sad duty of closing our Workington branch in 1930. Having started at the top it was appropriate that he should work his way down to sea level and complete his career at Millom, where he was appointed Manager in 1960, and where in close proximity to the beautiful Duddon Valley he is to spend his retirement.
<![if !vml]>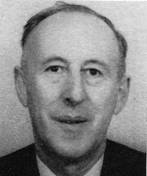 <![endif]>
Title:
Type:
Address:
Index Number and District:
Hours:
Telephone:
Services:
Manager:
11-05-60 Millom
Full Branch
The Square Millom  Cumberland
217 Northern
Mon to Fri 1000-1500
Saturday 0900-1130
Millom 202
Nightsafe Installed
Mr J P Coman Manager
<![if !vml]>

<![endif]>
Blackburn Mill Hill
1894
18 December 1918
3 January 1928
15 December 1969
1986
opened by the Bank of Liverpool
Bank of Liverpool and Martins Limited
Martins Bank Limited
Barclays Bank Lmited 20-57-41 Millom
Closed and moved to St George's Road
Bank of Liverpool Millom