<![if !vml]>

<![endif]>
<![if !vml]>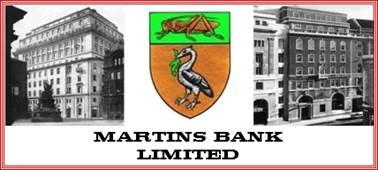 <![endif]>
<![if !vml]>

<![endif]>
<![if !vml]>

<![endif]>It might seem almost like some final act of defiance – the merger with Barclays is well into the planning stage, and Martins Bank still manages to make its presence felt by opening a number of new branches – in Norwich, Bristol, and along the south coast including this one at Hedge End.  Situated not far from Botley, towards the West End of Southampton, Hedge End sub-Branch ensures that the power of the grasshopper will be felt for some time to come! Even today, (when this building is a hair salon) this is quite a busy little shopping area, and from the start, Martins, opens Hedge End for the full six day banking week.
<![if !vml]>

<![endif]>
<![if !vml]>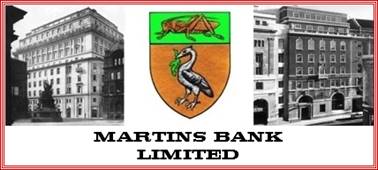 <![endif]>
Image © Barclays Ref 0030/1265
<![if !vml]>

<![endif]>
<![if !vml]>

<![endif]>
Image © Barclays Ref 0030/1265
By 1969 pressure from the Banking Unions is such that Saturday opening will be withdrawn until resurrected in 1982 by Barclays.
<![if !vml]>

<![endif]>
From this interior view of Hedge End sub-Branch, we can see that the wallpaper resembles something from a torture scene in "The Prisoner" – perhaps it was a deliberate attempt to frighten away those Barclays people?  Already Martins is having to install bandit screens on its new and existing counters, a fact that is bemoaned by Chairman Sir Cuthbert Clegg writing his annual report to the Bank's Shareholders in 1966. Sadly, the 1960s has seen a marked increase in armed raids, and Banks must do everything they can to protect their staff.  Many see the screens as the second nail in the coffin of customer interaction after the invention of the account number. No-one can quite envisage yet what we have today, when computers take the place of the cashier that would go to extremes to be helpful…
Title:
Type:
Address:
Index Number and District:
Hours:
Telephone:
Services:
Manager:
11-04-80 Southampton Hedge End
Sub to 11-04-80 Southampton
1c Lower Northam Road Hedge End Southampton Hampshire
415 London
Mon to Fri 1000-1500
Saturday 0900-1130
Southampton 3638
Nightsafe Installed
Mr R L Sharrock Manager (Southampton)
1968
15 December 1969
?
Currently
opened by Martins Bank Limited
Barclays Bank Limited 20-29-76 Southampton 171/2 High Street
Closed and moved to 1 Lower Northam Road
Hair Salon