<![if !vml]>

<![endif]>
<![if !vml]>

<![endif]>Martins Bank's Branches in the Channel Islands are as much a gift for Barclays as those on the Isle of Man, AND of course the Bank's numerous Trustee and Investment offices and the many services they offer, headlined by the hugely desirable "smash-hit" investment opportunity - Martins Unicorn Unit Trusts.
<![if !vml]>

<![endif]>
A winning combination of the top performing investment products in dedicated offshore bases attracts investors by the score, and this will prove to be a valuable nest egg for the combined bank for DECADES following the 1969 merger.  On Jersey, the main Branch at 30 Halkett Place opens in 1951, and the Guernsey office opens at St Peter Port in 1955. Whilst this remains the only branch on Guernsey,  Two further branches are opened on Jersey: 1960 at St Brelade, and at Gorey in 1964. Each branch in the Channel Islands is part of London District, operated under the supervision of London District Office.  You can visit these Branches by clicking on the leaflets shown here (right). The "Islands in the Sun" motif and hand-drawn map of the Channel islands shown above, is taken from Martins Bank Magazine's visit to the islands during the Summer of 1966. A more accurate representation of Guernsey and Jersey is shown here (below), courtesy of our friends at Google Maps…
<![if !vml]>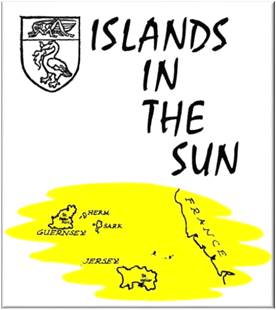 <![endif]>
<![if !vml]>

<![endif]>
<![if !vml]>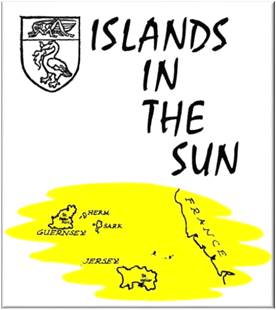 <![endif]>
<![if !vml]>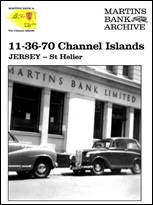 <![endif]><![if !vml]>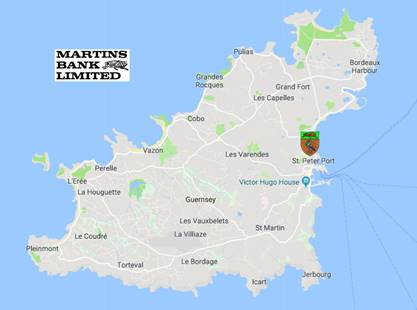 <![endif]>The Summer of 1963 sees the 400TH Anniversary of Martins Bank, and with celebrations in full swing, the Bank's Branch at Halkett Place St Helier is given a complete makeover.  Many branches around the country are also refurbished, or knocked down and rebuilt at this time, but perhaps none is on the same scale as the transformation that takes place at St Helier. The new counter alone is thirty-six feet long, and creates a record for itself by being the largest single piece of furniture ever to have been taken to the Island by aeroplane.  Martins Bank left behind a large number of photographs of the newly refurbished Branch at St Helier, and these can be seen on our St Helier page.