A Fait accompli…
<![if !vml]>

<![endif]>
<![if !vml]>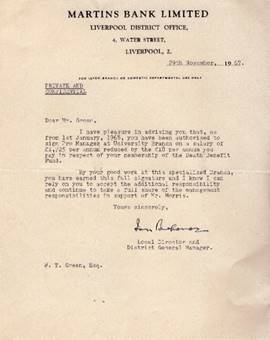 <![endif]><![if !vml]>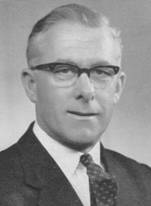 <![endif]>As feared, the competition - in the form of the District Bank - has won the right to be Bankers to the University.  This will guarantee them a retail outlet on the new campus when it opens.   Between 1963 and 1966, Martins Bank's Lancaster Manager, Mr Youdell (pictured, right) has the job of keeping on the friendliest terms with the University, and remaining vigilant to any news that another retail outlet may be up for grabs.  His "tactful lobbying" is much appreciated by Liverpool District Office, and it will eventually bear fruit – rather expensive fruit: After much deliberation, two banking units are proposed in the main shopping area of the University, and these are put out to tender.  Wisely, the University wants to be seen as fair, and to attract the highest bidder for the two leases.  The price paid must be the same for both winning banks, which means that although the District Bank will be one of those winners, it too, will be expected to dig extremely deep for the privilege.
<![if !vml]>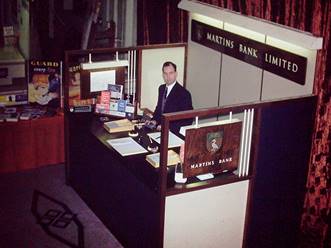 <![endif]>
Doing the maths…
<![if !vml]>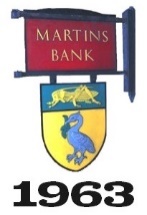 <![endif]><![if !vml]>

<![endif]>
Having secured a place at University, Martins Bank must now make it pay for itself in the long term.  Even as long ago as 1963, the cost per student to Martins of offering free banking seems very high at £15.  That's - £245 per student based on the increase in retail prices between 1963 and 2013, or £540 per student if based on average earnings over the same period!   There is no doubt that the long-term advantages are good – a graduate who becomes a high earning professional is likely to need to call upon the Bank's financial expertise. The facts and figures are mulled over by top brass of the Bank, who are presented with this feasibility paper in January 1964…
<![if !vml]>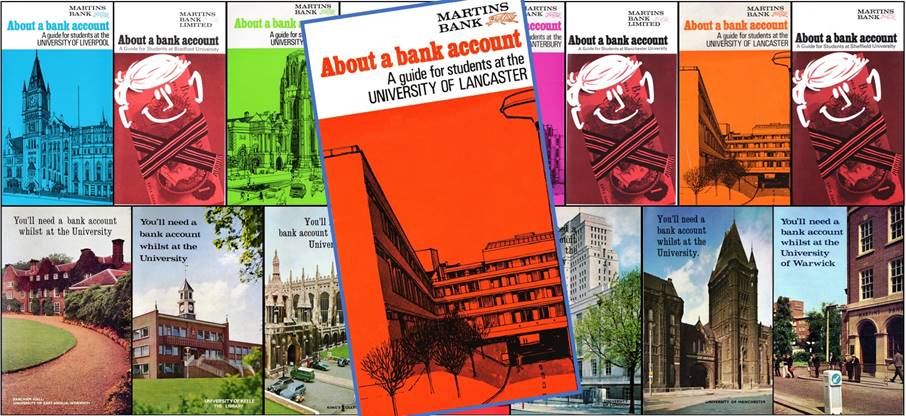 <![endif]>
<![if !supportLists]>1. <![endif]>So far we can measure the success and the cost of our university branch programme, only by our
 Liverpool experience.
<![if !supportLists]>2. <![endif]>We cannot expect to be as successful in attracting undergraduate accounts in other places as we have been in Liverpool.
<![if !supportLists]>3. <![endif]>We have obtained in Liverpool about 400 undergraduate accounts per annum and, of these, we can expect to retain, say, 250 after graduation either at the branch or at other branches.
<![if !supportLists]>4. <![endif]>Our loss will probably persist in the £3,000 per annum range plus, say, share of special advertising £1,000 per annum. So it is costing £4,000 to get 250 graduate accounts - say, £15 upwards per account.
<![if !supportLists]>5. <![endif]>I would be prepared to regard this as a worthwhile expenditure to obtain the accounts of this type of person.
<![if !supportLists]>6. <![endif]>We should continue our policy of opening branches to serve universities and where- existing branches place us at disadvantage to other banks by reason of location we should consider special university sub or full branches.
<![if !supportLists]>7. <![endif]>It is open for investigation in particular cases whether the best result would be obtained by being in the university precincts or in a situation convenient for students but also available to the public.
<![if !supportLists]>8. <![endif]>We should enquire of all branches in university towns
                        (a) The average number per annum of undergraduates obtained as customer (show male/female separately).
                        (b) Proportion who remain with:-
                                    (i) the branch 
                                    (ii) other branches of the bank after  graduation (male/female separately)
                        (c) Whether they recommend any special facilities, e.g. new sub branch.
           We should co-ordinate our publicity efforts with the activities of relative branch managers who should be more fully aware of what is being done.
<![if !vml]>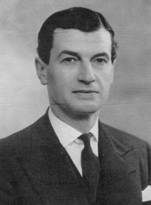 <![endif]>
<![if !vml]>

<![endif]>Moving in
<![if !vml]>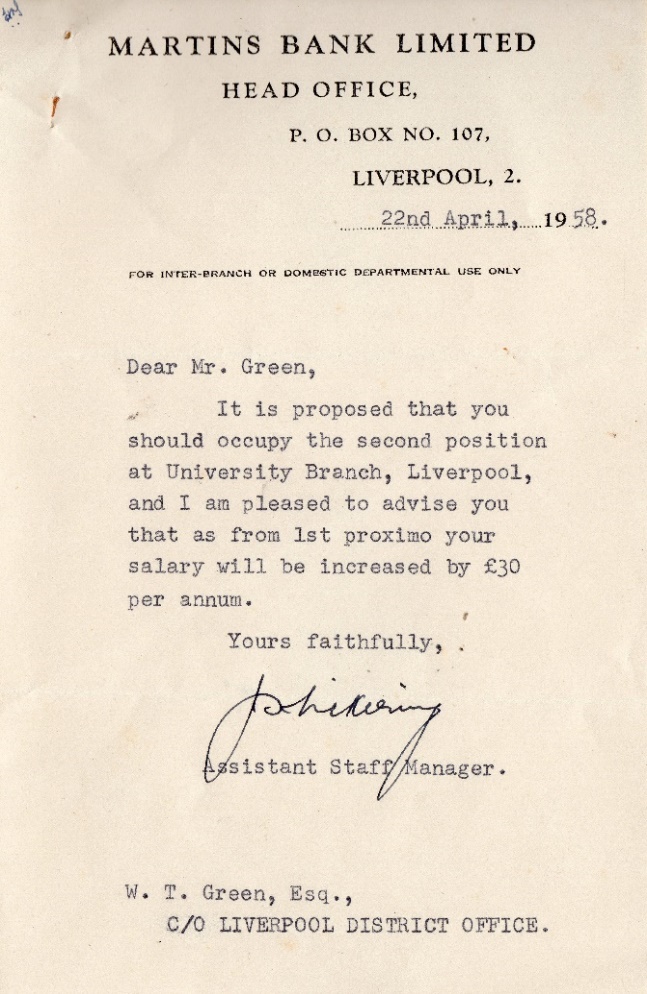 <![endif]>
To begin with, Lancaster University itself is based in St Leonard's Gate in the centre of the City. Thanks to the gentle persuasion of Lancaster Manager Mr Youdell, a room is made available from 18 October 1966 for Martins Bank to offer banking services to students, Monday to Friday, between 12 noon and 3pm.  Princess Alexandra is appointed Chancellor of Lancaster University in 1964, and remains in this position for the next forty years.  The permanent buildings are finished and occupied in 1968, and the main thoroughfare and shopping area is named "Alexandra Square" in honour of the Princess.   On a tour of the new University, she is photographed looking through the windows of the new branch.  Martins Bank has arrived, and five years of effort have paid off.  Lancaster University sub-Branch is upgraded quite quickly to Self Accounting status, with its own sorting code and a clerk in charge available to make on the spot decisions on student lending.  The following year, Lancaster University Branch is given its own newspaper publicity:
<![if !vml]>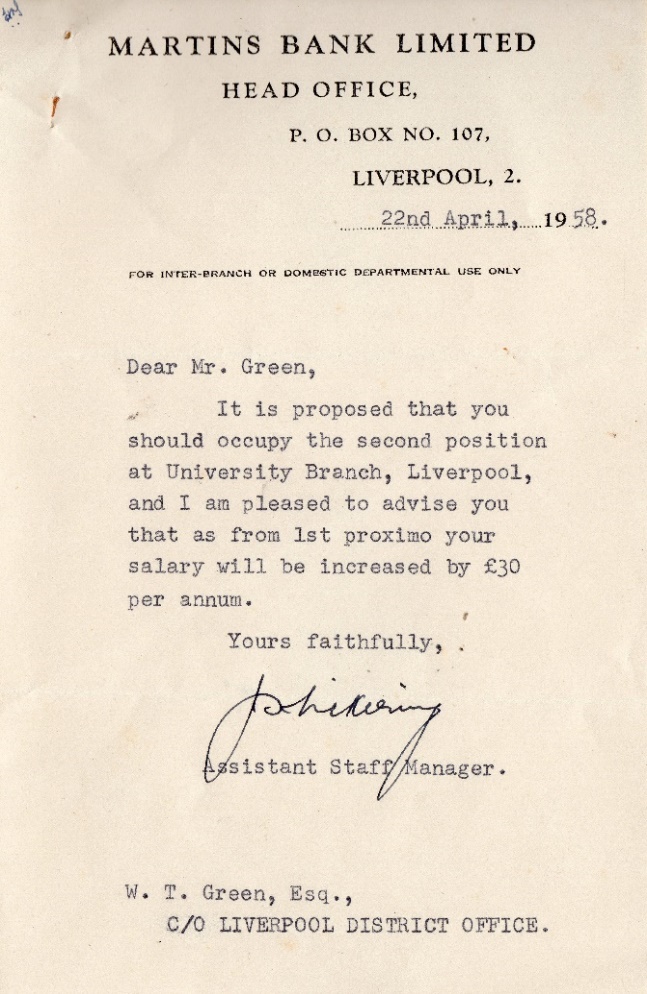 <![endif]>
<![if !vml]>

<![endif]>
1961-4 My Bank's Martins…
<![if !vml]>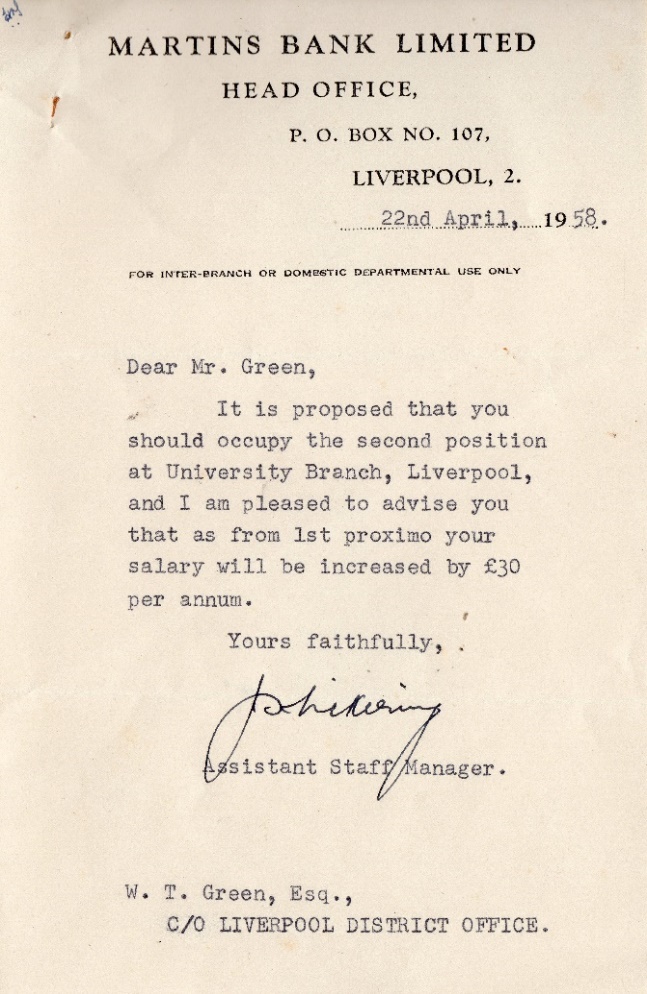 <![endif]>
<![if !vml]>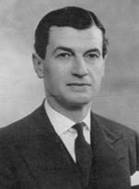 <![endif]>Martins goes to extremes to help students and young workers make the most of their limited budgets. These are the days of the student grant, a precious commodity that has to be eked out in baked beans, beer and rolled up tobacco over the year… The names of Managers and their contact details are prominently displayed, and staff at Martins Bank's University Branches are trained to help students stretch out their grant, or tide them over with a student overdraft.   From 1961 to 1964 Martins Bank's advertising strategy employs the services of some "decent sorts" for a campaign that should convince their fellow students that using a bank is the right thing to do.  Perhaps keeping your money in a sock has finally been recognised as a bad move.
<![if !vml]>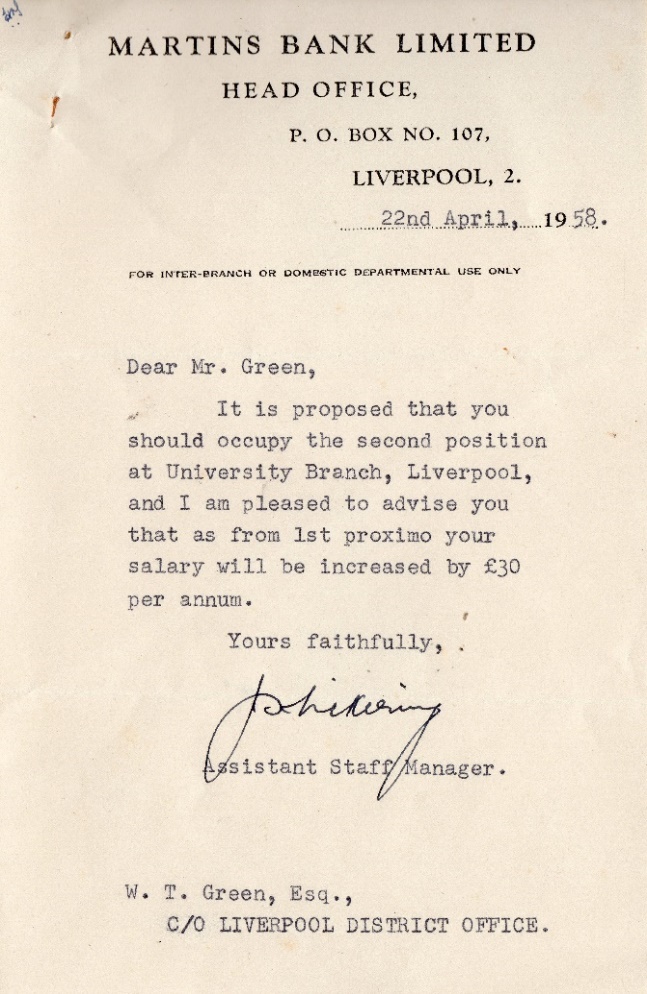 <![endif]>