<![if !vml]>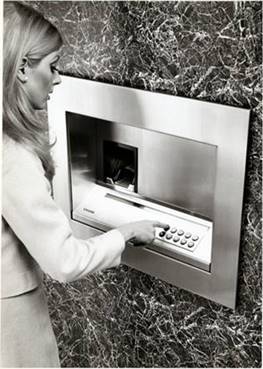 <![endif]>
<![if !vml]>

<![endif]><![if !vml]>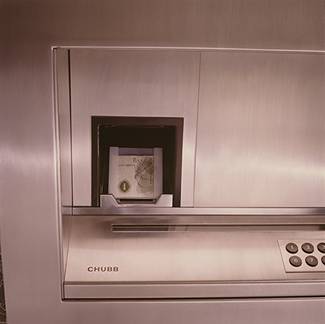 <![endif]>The Martins Bank Auto Cashier is the first cash dispenser to use a plastic card in conjunction with a PIN. To produce its BARCLAYCASH machine, Barclays goes for a design by De La Rue, a well established company whose products are the watchword for security. Martins Bank Auto Cashier is made by CHUBB, also famous for security products, and from the prototype onwards, the design is sleek, easy to use, and extremely good looking. So much so in fact, that the designer, Jack Howe, wins the prestigious Prince Philip Design Award for 1969. Is this a case of style over substance?  Not at all, Jack Howe's design is popular even before his award, and its practicality and simplicity means there are already around four hundred CHUBB machines in service around the country, when he receives it. The following report from the Design Council, sums up this achievement, and you see will more of the original Martins Bank CHUBB design, a little later in this feature…
<![if !vml]>

<![endif]><![if !vml]>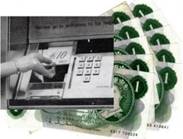 <![endif]>
The Design Council – Prince Philip Award for 1969 was awarded to Jack Howe for his design – The MD2 cash dispenser for Chubb Ltd.  Chubb narrowly lost out to De La Rue in the race to launch the UK's (and the World's) first cash dispenser in 1967, but their version's steel-clad good looks and simple controls were enough to ensure that 400 were operating nationwide by the time Howe received his award. The one-time employee of Bauhaus founder Walter Gropius was praised for 'an elegant solution to the problem of security for banks'. Customers used a card and PIN — also new technology, developed in the UK in 1965 — to withdraw a plastic pack containing ten £1 notes. The machine kept the card, which the bank posted back after debiting the customer's account.
<![if !vml]>

<![endif]>
The Chubb MD2 Cash Dispenser
Image © University of Brighton Design Archives
Ref GB-1837-DES-DCA-30-7-1969-1-2
<![if !vml]>

<![endif]>
Now, Martins Bank Magazine reflects - somewhat wryly - upon its latest investment, and seems almost bemused by the possible uses of a cash dispenser.  This is apparent from the various stereotypes used by the magazine as it tries to predict just who might use the machine, and why… ( To read the Bank's Press Release for Martins Auto Cashier, click HERE )
<![if !vml]>

<![endif]>
<![if !vml]>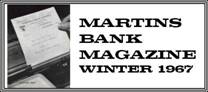 <![endif]>       <![if !vml]>

<![endif]>
<![if !vml]>

<![endif]>
local rather than national publicity was an introductory feature of the Bank's first cash dispenser, brought into use on 31 October at Church Street branch, Liverpool. This is, of course, the first dispenser in the North and others will follow shortly but it is essentially an experi­ment—simple to operate, attractive, apparently thief-proof and is possibly the forerunner of even bigger innovations. It is this last aspect which the staff will find intriguing. The machine provides ten £1 notes for each plastic card inserted by the customer who keys a number known only to himself or herself—not necessarily a Church Street customer but any customer who thinks he may have a sudden need for ready cash while in the Liverpool shopping and entertainment centre.
<![if !vml]>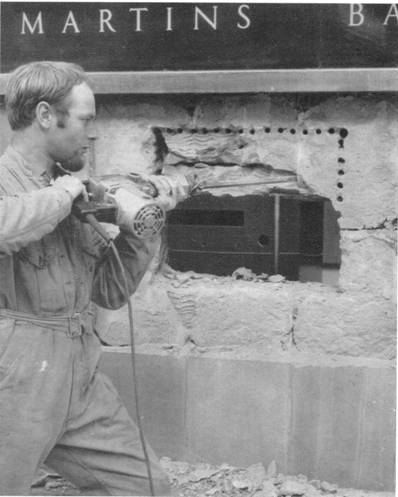 <![endif]>The first point to be remembered is that for its comparatively limited capacity the machine is costly. But what price bigger and better dispensers in large centres or in the shopping precincts ? Would the house­wives use them before doing their Saturday shopping? Could built-in dispensers become one of the features of the populous areas in big cities and at airports and railway termini?  To be an economic proposition the dispenser of the future will, ideally, not only supply a variety of cash round the clock but take the place of one or more cashiers. It could then reduce the counter queues in banks, and perhaps pre-debiting as for travellers' cheques could reduce book-keeping, for if it were to bring additional and complicated records it would defeat much of its purpose. What intrigues us just now is whether the customers will show they want it. Will they provide us with proof that the chequeless or cashless society is not just a dream ? Many people may think there is an element of danger in collecting one's cash in the street, but how dangerous has the use of the night safe proved to be when, like a dispenser, available round the clock? In a prominent site like Church Street it will be interesting to see whether every cosh-bearing   Merseyside  yob takes to standing  all innocent-like on the pavement hoping to pull off a snatch in multiples of £10.  More probably he will prefer the big money grabs between 10 and 3 which at least he can plan and thereby avoid standing about in the cold. Maybe we will not learn a lot about this new dispenser for some months. It may catch on quickly or it may not appeal. That some other banks have also taken up the idea is an indication that no matter how much one may hope for a cashless society this may be a long time coming, and meanwhile the late-night taxi driver will insist on something more than the sight of a credit card. Various manufacturers, we understand, are already interested in further developments and when one thinks of all the things obtainable today from slot machines and dispensers it is surprising that only in England in 1967 have some of the banks come out with machines which can produce what everybody wants, all the time, more than anything else — money!
<![if !vml]>

<![endif]>