<![if !vml]>

<![endif]>Whilst we try always to paint for you an accurate picture of the history of Martins Bank, even we sometimes can't escape from – what shall we call it – folklore; and on this occasion, the same rumour concerning the Bank's second Drive-In Branch at Epsom has reached us from more than one independent source.  So here goes – "rumour has it" that the wife of one of Martins Bank's Directors complained to her husband that there was no branch of Martins Bank in Epsom, and that she felt embarrassed having to use the services of rival banks in order to cash her cheques.   Keen as ever to be first to respond to the needs of the customer, the Bank acts quickly and buys the former Epsom Police Station.  This is a very large building, with its own modest grounds – ideal not only to join Martins' rivals, but to beat them all by offering a drvie-in bank.  Unlike Leicester, the Epsom Drive-in is more of an open air affair, and doubtless a few soggy cheques are exchanged for a few soggy banknotes in the rainy season.  Nevertheless, the new branch makes its own splash across the  pages of Martins Bank Magazine's  Autumn 1966 issue, and the drive-in itself goes on to provide a service for more than a decade…
WHY NOT ALSO VISIT
<![if !vml]>

<![endif]>
Serving the gin and Jaguar belt…
<![if !vml]>

<![endif]>
<![if !vml]>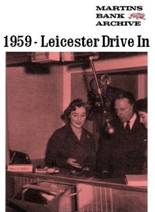 <![endif]>the bank's second drive-in branch opened at Epsom on September 29. It stands well back in Ashley Road at the junction with Ashley Avenue, with a registry office on the opposite corner and a church and the Magistrate's Court across the way. This rather unusual combination is partly explained by the fact that the new branch stands on the site of the old police station. Even if some difficulty was experienced in obtaining sanction for change of use, despite the obvious 'lock-up', 'security' and 'custody' associations of the respective undertakings, the outcome has fully justified the trouble. The frontage has been laid out with stone paving, cobbles and beds for evergreen and flowering shrubs and once our customers adapt them­selves to the in and out of the drive-in this will prove a highly popular innovation in the district. Epsom lies in what is sometimes termed the stock­broker belt—well outside the bingo belt but close to the gin and Jaguar belt, so to speak.
<![if !vml]>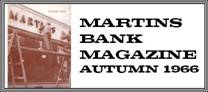 <![endif]>
<![if !vml]>

<![endif]>
Ultra-cool: Banking by Zephyr
at the Epsom drive-in.
Long before the days of "would you like fries with that?" and the well meaning but mis-guided: "I'm sorry about your weight (wait) sir/madam", Mr K P Marsh shows them how it's done…
There are the Downs, the Racecourse and sufficient green belt to have kept the area mercifully insulated from becoming a suburb, and the number of estate agents' offices in this small township are an indication of the demand—and the price—for residential property. The shopkeepers are courteous, the train services to London frequent, and Epsom is altogether a good place to live in if one has-the means. The branch interior is spacious, with a rosewood counter fronted by white marble brickettes and dark glazed screens behind the counter space. Blue-green vinyl fabric covers two walls and, if the overall effect is somewhat clinical, the materials and finish throughout are worthy of what may justifiably be termed a prestige branch. Here the selection of the staff has been as imaginatively and successfully handled by London District as the Midland District handled the staffing of Peterborough branch which opened on the same day.
Mr Brian du Feu, will soon have completed his third house move in four years—an indication of what progress in banking can sometimes involve. He was in the photographic business before joining the Bank and was for some years secretary of the Jersey Camera Club: his interests include hockey, tennis, badminton, surfing and skin-diving.  Mr Ian Fletcher joined the staff after six years at Chislehurst and Mr Kenneth Marsh, who has appeared frequently in magazine photographs of cricket, hockey or rugby teams, lives conveniently in Epsom as if by arrangement.
Mr C. J. Butcher commutes cheerfully each day to Oxted with the help of his Renault-Banger and Miss G. C. Leggett, who joined the branch shortly before it opened, will tell any girl with ideas about the glamour of working in the Big City that a secretary's job in a London fashion house with travel costs of £2 a week for two years is a poor substitute for working at Epsom branch and living at home on Epsom Downs. Quite naturally she wanted to try the London job and quite sensibly she packed it in: quite understandably Mr du Feu and his staff are very glad that she did.
Epsom branch is off to a good start, and the business is likely to continue expansion on private and com­mercial lines. Our only regret about going there is that we cannot state how many accounts they have opened already, because one never knows who might read these words. But we now have a lot more sympathy for the sad-faced, milling crowds we passed on Hungerford Bridge and in Waterloo station on our way out that morning. They looked as if they had seen Epsom branch and were sorry they couldn't work there.
<![if !vml]>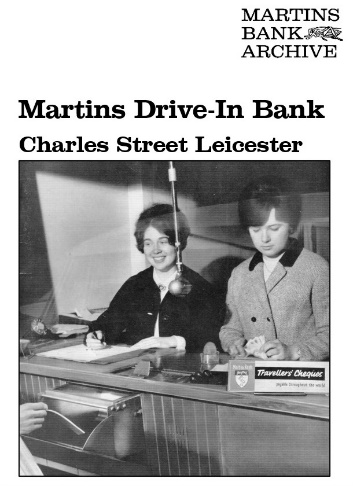 <![endif]>
What became of the Epsom Drive-In?
<![if !vml]>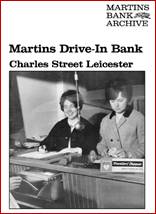 <![endif]>
As drive-in banks don't seem to be have been around for the last few decades, we wondered about the fate of Martins' pioneering efforts at Epsom.  We asked our friends at Barclays Group Archives what happened to the branch following the merger with Barclays. They told us that Epsom Branch continued to offer its drive-in till until 1979, and the branch itself was closed in 1981. This means there was Drive-in Banking at Epsom for 13 years – 1966-1979 – which is not bad for an experiment!
<![if !vml]>

<![endif]>
Above: B. R. du Feu (Manager), I. Fletcher and C. J. Butcher