<![if !vml]>

<![endif]>
It was THIS big! (No, really, it WAS!)
<![if !vml]>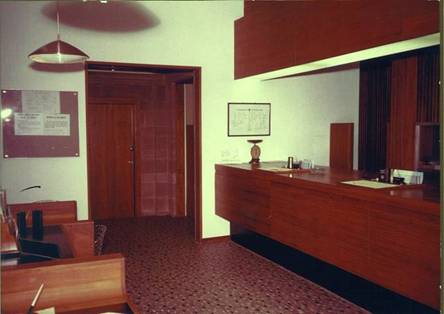 <![endif]><![if !vml]>

<![endif]>
Working for Martins Bank can make you feel like a big fish in a small pond, but sometimes the tables can be turned, as we learn in this fishy tale from 1950…
<![if !vml]>

<![endif]>
<![if !vml]>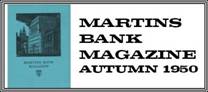 <![endif]>The photograph is of Mr. R. S. Sedgwick (Cockermouth Branch) and his 12lb. sea trout, the biggest sea trout ever taken from the Cumberland Derwent. He landed the fish on fly, size eight hook, from The Cradles, on the Derwent, eight miles from the sea, after a 40-minutes tussle at midnight on Friday, July 14th. The length of the fish is 31 inches, and its circumference above the dorsal fin 16 inches. Mr. Sedgwick is treasurer of the Cockermouth Anglers' Association, and a member of the River Derwent Board of Conservators. An old boy of Sedbergh School, he is a native of Westmorland, and is well-known in Lancaster and Penrith. He is also popular in Cumber­land Rugby Union, a former forward and an officer of Penrith R.U.F.C., and is now on the committee of the Cockermouth R.U.F.C.
<![if !vml]>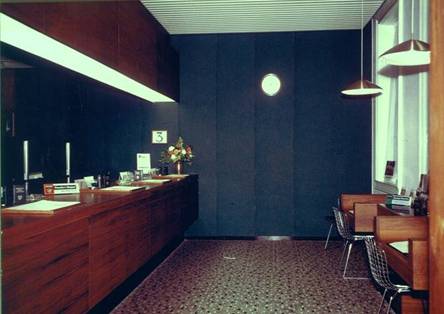 <![endif]>
<![if !vml]>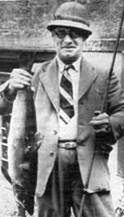 <![endif]>Show Season
<![if !vml]>

<![endif]>
<![if !vml]>
<![endif]>The oldest visitor to the Cockermouth Agricultural Society's Show, was Mr J B Ellwood, who is over 92 years of age.  Mr Ellwood is also the oldest customer of Martins Bank in the district, and one of his first calls on the showfield was at the MOBILE BRANCH, where he signed the visitors' book.  With Mr Ellwood are (left to right):  Mr J C Watson, incharge of the Mobile Branch; Mr R S Sedgwick and Miss Heather Mallinson of Cockermouth Branch, and Mr Ellwood's son, Mr J W Ellwood. 
<![if !vml]>

<![endif]>
Finally, we mark the retirement through ill-health of Cockermouth Manager Mr G M Park, who has served the Bank for nearly forty years, and bows out gracefully in the Autumn of 1955…
<![if !vml]>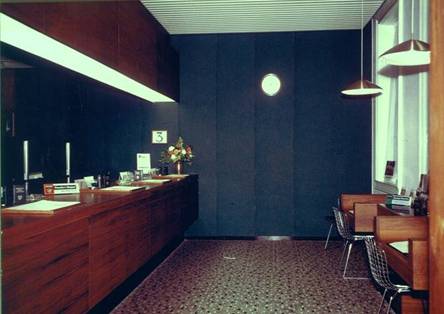 <![endif]>
<![if !vml]>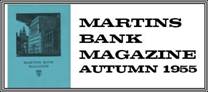 <![endif]><![if !vml]>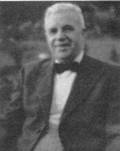 <![endif]>At the end of July Mr. G. M. Park retired after nearly 40 years' service, a career terminated a little earlier than usual as Mr. Park's health has not been too good latterly. On the day of his retirement Mr. and Mrs. Park entertained the staff of Cockermouth branch to tea in their home and during the course of the proceedings an informal presentation was made of books for Mr. Park and of a bouquet for Mrs. Park. Mr. Park commenced his service in Decem­ber, 1915 at Millom. He served during the First World War from 1918-1919, returning to Millom. In 1928 he went to Dalton where he was appointed Pro Manager in 1933. Acting Manager in 1942 and Manager in 1946. He was made Manager at Cockermouth in 1951. Mr. Park intends to spend his retirement in Cockermouth where he is having a bunga­low built and we in Head Office who specially remember his pleasant contributions to our annual entertainment at the Northern District dinners join our colleagues of the Northern District in wishing him well in his retirement and a speedy return to good health.
<![if !vml]>

<![endif]>