<![if !vml]>

<![endif]>
<![if !vml]>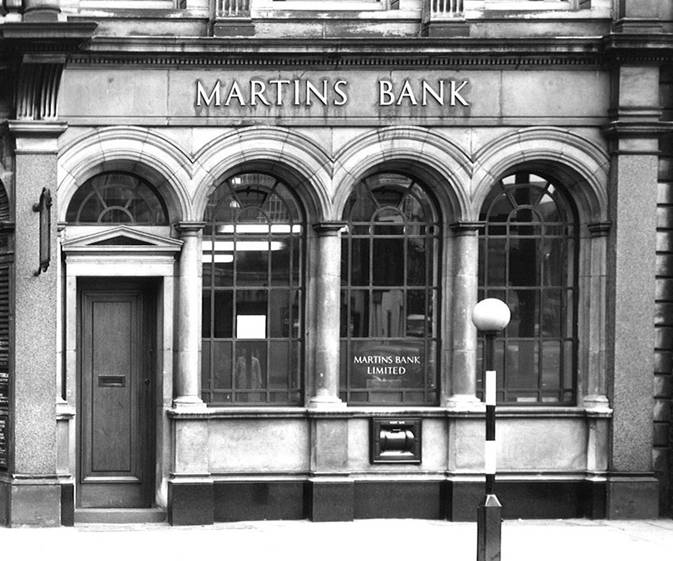 <![endif]>
Branch Images © Barclays Ref 30-3045
<![if !vml]>

<![endif]>
Mighty oaks from little acorns grow…
<![if !vml]>

<![endif]>
<![if !vml]>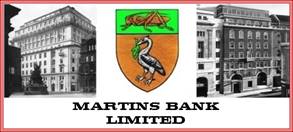 <![endif]><![if !vml]>

<![endif]>Martins Bank's Midland District develops from the 1930s, right up to merger with Barclays, and along the way some branches are opened and closed again, others – of which Walsall is a case in point - grow from strength to strength.  From our twenty-first century viewpoint of preserving and nursing old buildings back to their former glory, the 1960s has it dark moments – when the desire to modernise overtakes reason, and architects are free to see how much "shock of the new" we can cope with. 
<![if !vml]>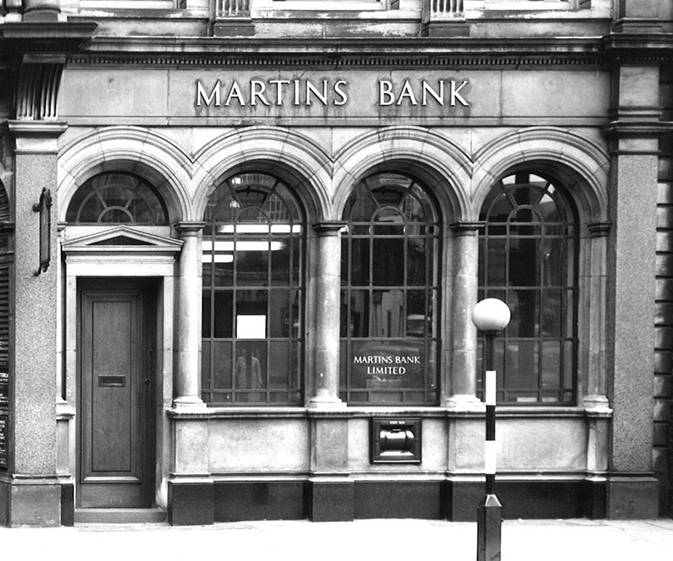 <![endif]>One sad example of this policy within Martins, is their branch at WELLING  Kent, whose attractive little premises are torn down and replaced by something altogether out of sorts.  In the case of Walsall, however, we will reserve judgement.  For one thing, the branch is altered and expanded - rather than rebuilt – and the work takes place before the really psychedelic phase of sixties architecture has really begun.  For another, the results are not quite so shocking as they might have been.  We begin in 1937 with the traditional looking bank building above, of which the Martins Branch at this time takes up the bottom right-hand corner.  As business picks up after the war, space is at a premium, for the Bank suddenly find itself returning to those employee-rich times when most of the banking work is done by people, rather than computers. Sometime around 1963, Martins takes over the whole of the bottom part of the building, which is re-designed as follows:
<![if !vml]>

<![endif]>
<![if !vml]>

<![endif]>
Branch Images © Barclays Ref 30-3045
<![if !vml]>

<![endif]>
The stonework is covered by wood panelling and the black marble slabs favoured by Martins since the 1950s.  The interior is fully moderised, and we are fortunate enough to have some before and after images:
Branch Images © Barclays Ref 30-3045
<![if !vml]>

<![endif]>
Martins Bank Magazine pays one short visit to the new-style Walsall Branch in 1965, and makes reference to the space and light of the new office.
<![if !vml]>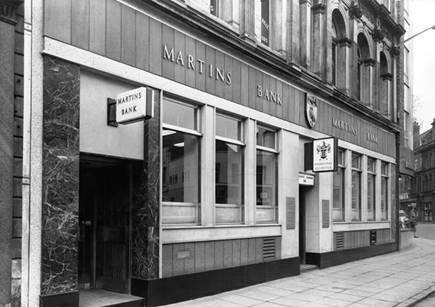 <![endif]>
<![if !vml]>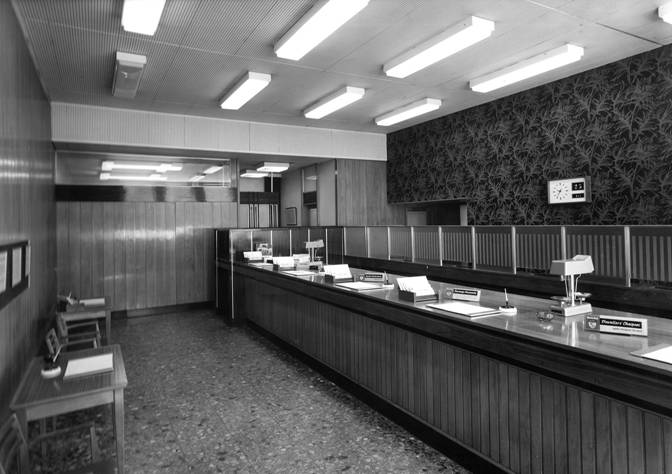 <![endif]>At Walsall, 'The town of 100 trades', we had a pleasant surprise, finding a bright, spacious, modernised office in what at first seems a beautiless borough. In the Black Country a cloth cap may be a sign of wealth, two-car families abound everywhere in the social scale, industry and money rank before appearance and, we suspect, ahead of development if this involves a large outlay for little return. Not that health, education and civic pride are ignored; it is just that of all the things we use or export some part is surely made in this area and in a competitive world their manufacture and sale come first. Mr J. D. Grabham, a north-easterner, is the fourth of our Walsall managers, his predecessors being Mr E. L. Corkish and Mr F. J. Mitchell, both now in retirement, and Mr J. B. Brown now Manager at Victoria Street, Liverpool. Again most of the staff are young, but we fully expected this, and they are extremely cheerful.
<![if !vml]>

<![endif]>
As for the days of the old style office, our second feature is the retirement in 1955 of Manager Mr E L Corkish, who has spent the last eighteen years of his long career in charge at Walsall…
<![if !vml]>

<![endif]>
<![if !vml]>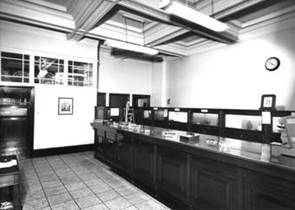 <![endif]><![if !vml]>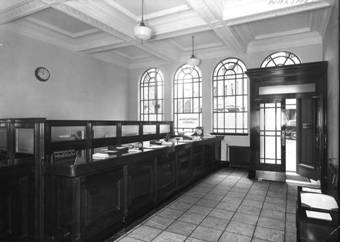 <![endif]>At the end of March Mr. E. L. Corkish retired after 40 years' service, the last eighteen of which have been spent with great dis­tinction as Manager of Walsall branch. The occasion was marked by the presenta­tion of a portable typewriter which Mr. N. N. Jobling, Midland District General Manager, handed over on behalf of the subscribers at a little ceremony at the branch. Mr. R. J. Lees, Midland District Superintendent of Branches, also spoke of Mr. Corkish's success in Walsall and of his courage and unfailing cheerfulness.
Mr. Renison, Manager at Coventry; and Mr. Brayshaw, Manager at Wolverhampton, were among those present. In the evening Mr. and Mrs. Corkish gave a dinner party for the members of the Walsall staff, past and present, and their wives. Miss Davies presented Mrs. Corkish with a bouquet on behalf of the staff. Mr. Jobling and Mr. Lees were present and a toast was proposed by Mr. Armitage, Assistant Manager at Walsall, in a most entertaining and able speech. Mr. Corkish responded, and referring to the happy time he had spent at Walsall and to the support he had received from his staff, mentioned specially Mr. Arthur Storey who was his second man in the early years of the branch. He also paid a graceful tribute to Mrs. Corkish, the partner of his success at the branch. Mr. Renison, mentioning his 30 years' association with Mr.Corkish, expressed thanks on behalf of all present for a very happy evening. Mr. Corkish entered the Bank of Liverpool in October, 1914 at Walton. He served with H.M. Forces from 1915 to 1917, being wounded in France. From 1917 until his appointment as Manager at Walsall in 1937 he worked in Head Office.
<![if !vml]>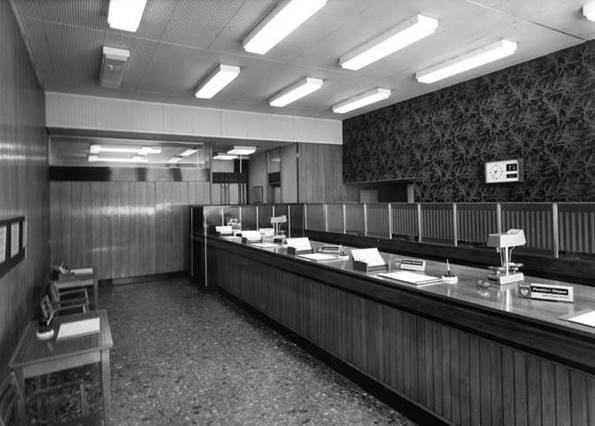 <![endif]>