For most of its Martins life, Upton is a self accounting sub branch to Birkenhead Claughton Village. However, just before the merger with Barclays in 1969, it is given full branch status, and its own manager. With no official visit to Upton by Martins Bank Magazine, we turn instead to the Autumn 1960 edition to read about the retirement of Mr S T Rees, who has been Clerk in Charge at Upton since 1947.
<![if !vml]>

<![endif]><![if !vml]>

<![endif]>
<![if !vml]>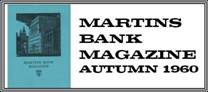 <![endif]><![if !vml]>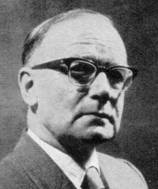 <![endif]>The retirement of Mr. S. T. Rees at the end of October after 40 years' service was the occasion of a gathering of such a large number of friends and colleagues that the presentation and subsequent celebrations had to be arranged at a nearby hostelry. Mr. P. J. Randle opened the proceedings and after appreciative references to Mr. Rees he called upon Mr. N. N. Jobling, Liverpool District General Manager, to make the presentation.
<![if !vml]>

<![endif]>
<![if !vml]>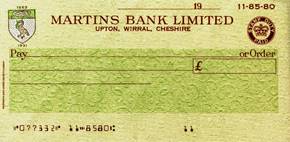 <![endif]>In his usual kindly and gracious way Mr. Jobling referred to Mr. Rees's work for the Bank and to his great capacity for making friends. He mentioned the fact that Mr. Rees had chosen a lady from the staff to be his wife and we were all very pleased that she was able to be present. He then made the presentation on behalf of the subscribers of a nest of tables and an exposure meter.
<![if !vml]>

<![endif]>
<![if !vml]>

<![endif]>
A bouquet was handed to Mrs. Rees by Miss C. A. Jones. After Mr. Rees had thanked everybody the gathering settled down to a pleasant little party. Mr. Rees commenced his business life with Messrs. Felling Stanley and entered the Bank in 1920. In the course of his career he served at Charing Cross, Bootle, Liverpool City Office, Hoylake, Birkenhead, Heswall, on the Relief staff, and in Income Tax Department, H. O. He was appointed Clerk-in-Charge at Upton branch in 1947.
<![if !vml]>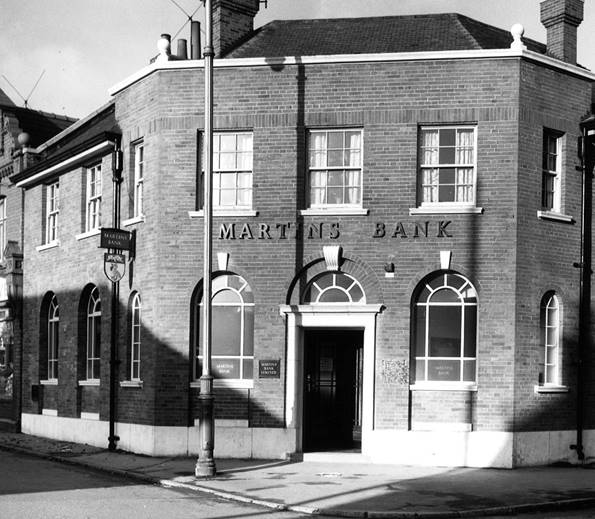 <![endif]>
<![if !vml]>

<![endif]>Upton does not seem to have changed very much in more than ninety years, and is one of Martins few remaining original branches on the Wirral Peninsula to be serving customers in the twenty-first Century. Note that the two views here are from DIFFERENT angles, as at first it appears as if one set of upstairs windows has been removed – not so!
<![if !vml]>

<![endif]>