In about 1963 the Bank took over the Hairdressers' shop attached to the property, and the conversion was started. During this time the other Junior and I, Bob Elliott, worked in the basement of the former shop and the counter was also in the narrow space at street level. When the work was completed and we moved back into the new premises is seemed so modern and fresh. During this time we had a new First Cashier, Roy Vallier, with whom I worked, finally on the counter, until he left in about 1966.
<![if !vml]>

<![endif]>
There were several staff changes over the years, Pat Black married and become Mrs. Rose, leaving to join her husband working for the Brighton Fire Service, Pat Lucock moved up to London to work, Dennis Cooper moved to another Brighton branch, I think, and we were joined by Betty Adamson, Miss Sheila Wells - from a London branch, Ann Hill, and of course Roy"…
<![if !vml]>

<![endif]>
<![if !vml]>

<![endif]>
Image: © 1966 - E Whitehouse (seen here as Miss E Bailey)
<![if !vml]>

<![endif]>
An arrival…
The following short pieces from Martins Bank Magazine announce the arrival of Mr Lucock as the new Branch Manager in 1947, and his departure in 1966 upon retirement, having been Manager at Hove for almost eighteen years…
<![if !vml]>

<![endif]>
<![if !vml]>

<![endif]><![if !vml]>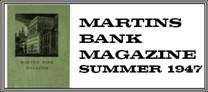 <![endif]>Mr A L Lucock is the new Manager of our Hove Branch. He entered the service at Kingsway Branch. After service at Chislehurst, London Office, and with the London Inspection Staff, he was transferred in 1939 to Brighton with signing authority.  From 1942 to 1946 he served with H M Forces, and became pro Manager at Brighton in 1946. His present appointment dates from 01 April 1947.
…and a departure
<![if !vml]>

<![endif]><![if !vml]>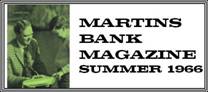 <![endif]>mr lucock's retirement as Manager of Hove branch brought 50 colleagues and friends to the branch on March 31. In the absence through illness of Mr C. Whiteley (Joint General Manager), Mr D. C. Bardsley travelled from Merseyside to attend the party. In presenting Mr Lucock with his col­leagues' cheque Mr Bardsley paid tribute to his unfailing kindness, patience and loyalty, but regretted that he could find nothing murky in his past to enlighten the proceedings. A small personal gift from the local staff was then handed to Mr Lucock by Miss Bailey. In reply Mr Lucock  ttributed the lack of a murky past to 'undetected crime'. He thanked his friends for their generosity and showed them a painting, the work of a customer, which he would be buying with part of the cheque. He then outlined some humorous happenings in his banking career and closed by pointing out that his mana­gerial career and his retirement both com­menced on All Fools' Day. A fine repast with a good liquidity ratio followed. After entering the Bank at Kingsway branch in 1923 and serving at other London District branches, Mr Lucock received signing authority at Brighton in 1939. After four years in H.M. Forces he returned to Brighton in 1946 and the following year was appointed Manager at Hove.
<![if !vml]>

<![endif]>
For our final Hove Branch Feature we turn once more to former Martins colleague Alan Hill who provides some facts and figures regarding Hove and other local Branches of Martins Bank, in his pamphlet written in 1984 entitled MARTINS BANK BRANCHES IN SUSSEX.
<![if !vml]>

<![endif]>
<![if !vml]>

<![endif]><![if !vml]>

<![endif]>"Hove Branch was opened 10 May 1937 as a sub to Brighton with Mr K Bainbridge as Clerk in Charge, the office being upgraded to full branch status in 1938. The office was situated at the corner of The Drive and Church Road in the middle of a high class residential area, and developed as a collector of creditor balances giving a very personal service.  The business developed slowly over the years being handicapped by the residential nature of its location.  Hove Corporation tended to resist the residential and commercial development of the Church Road area and it was not until the mid sixties that there was considerable re-development in The Drive and Grand Avenue locality with blocks of high class flats being built in the area. During the post war period the Branch was first managed by A L Lucock, who was resident for 19 years and retired in March 1966.  He was followed by J Baughen, who remained there until closure.  Hove was under the control of Barclays 92 Church Road, from 15 December 1969 until closure on 15 December 1972.  Shortly after the closure of the Branch, the premises were brought temporarily back into use as a satellite machine room for Barclays 92 Church Road whilst that office was being extended. Upon completion of the Barclays alterations, the Martins premises were sold to Panorama Travel Services" .
Image taken from Martins Bank Annual Report and Accounts for 1937 – © Barclays
<![if !vml]>

<![endif]>