<![if !vml]>

<![endif]>
<![if !vml]>

<![endif]>
<![if !vml]>

<![endif]>
Martins Bank's Branch at Macclesfield is one of a large number of North Western outlets inherited from the amalgamation in January 1928 of the Bank of Liverpool and Martins, and the Lancashire and Yorkshire Bank.  Typical of the rather grand style of bank buildings of the late nineteenth century, Macclesfield boasts a façade of columns that would not look out of place in ancient Rome! 
<![if !vml]>

<![endif]>
This rare colour image shows Macclesfield Branch floodlit at night, and comes from the extensive collection of Branch Photos inherited by Barclays from Martins Bank. Macclesfield plays an important role during the Second World War, when Martins moves many of its Head Office Departments temporarily to outlying Branches.  This is to avoid the chaos that could be caused from loss of records if Water Street were Bombed and all departments and information had been kept in one place. 
<![if !vml]>

<![endif]>
<![if !vml]>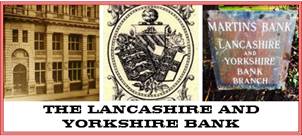 <![endif]>
Branch Images © 1964 Barclays Ref 0030/1772
<![if !vml]>

<![endif]>
<![if !vml]>

<![endif]>Chief Accountant's Department moves from Head Office to Macclesfield in June 1941 and stays for almost three years, until April 1944.  This Head Office Circular from that period shows the amended address.  Six years later, and with the war over, Martins Bank Magazine pays a visit to Macclesfield in 1950, describing it as being "a somewhat dirty, ugly manufacturing town".  Let's hope no-one was or is offended by this rather harsh critique!  It surely can't have been all that bad, as later on this page we also catch a glimpse of three silk tapestries commissioned by the Bank to reflect the local area…
<![if !vml]>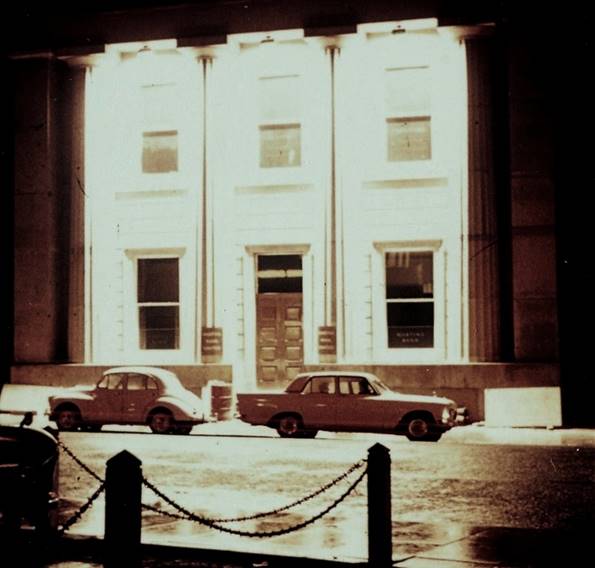 <![endif]>
<![if !vml]>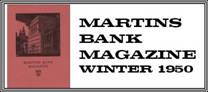 <![endif]>We enjoy no visits more than our visits to branches in the Manchester district and when Macclesfield was decided upon for September 18th we were indeed delighted. East Cheshire is quite one of the loveliest spots in the whole of the country, yet surprisingly little known except to Manchester business men. Just as West Cheshire, and the Wirral in particular, is the bedroom of Liverpool, so East Cheshire might be described as the bedroom of Manchester and these attractive little townships situated within sight of the Pennines surely provide nearly all that a man could desire when the toil of day is over.
<![if !vml]>

<![endif]>Macclesfield itself is not beautiful. In fact, it is a somewhat dirty, ugly manufacturing town, the centre of the silk and textile machinery industries. But ten minutes run in a car will take you to Macclesfield Forest and the lakes which are the source of the town's water supply and it takes no effort of the imagination to make you think you are in the Lake District, for the scenery is beautiful in the extreme. Our branch is a most imposing structure in classical style with fluted columns which make the building look not unlike a branch of the Bank of England. The building was once the home of the Macclesfield Savings Bank and was acquired by the Lancashire and Yorkshire Bank when the Savings Bank ceased business. At one time it was closely hemmed in by mean property but this has all been cleared away from the front which stands on a square in a commanding position. During the last war Manchester District Office and Chief Accountant's Department, Head Office, were evacuated to Macclesfield and housed in the rooms above the branch which are now the flat, and the name of Martins Bank is certainly well-known in the town, partly as a consequence of this.
<![if !vml]>

<![endif]>
<![if !vml]>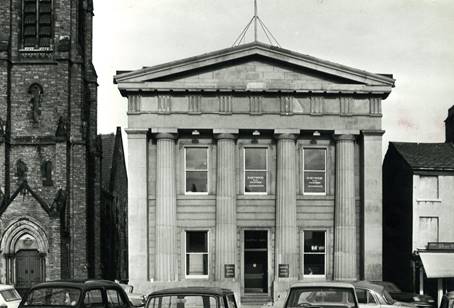 <![endif]>Mr. H. C. Hindley has been our Manager there since 1943, and prior to that he was a signing officer at Hightown and Portland Street branches. When not engaged in angling for and landing new business for the Bank his favourite occupation is fly-fishing, though he finds time for a little golf and is keenly interested in the work of Rotary. His second man, G. M. Johnson, is just as keen on fishing, and, in fact, between them and a former member of the staff,  Mr N. Cumberlidge, now at another branch, they formed the Macclesfield Fly Fishing Club this season and Mr. Johnson acts as Secretary. By their efforts they have organised their fishing grounds and have raised the money for re-stocking and their work has been so successful that they now have a long waiting list for membership of their club. Mr. Johnson has four children and we were most interested to discover that his elder two daughters are training for the not-so-usual occupations of the ballet and art designer.
T. E. Hopley acts as First Cashier and John Mills is the fourth man. John Mills had some interesting war experiences, training first of all in Phoenix, Arizona, for flying, and in addition to seeing the wonderful scenery of the Grand Canyon country and the Arizona desert he met a number of the film stars, including Gracie Fields who kept open house for British Service men. Later on he had the job, whilst in Burma, of flying Field Marshal Sir William Slim about. All this information had to be dragged out of him and but for a hint dropped to us by Mr. Hindley it would not have been forthcoming. We don't quite know what to say about the girls, for we did not see two of the three who appear in the photograph. Miss Barbara Broughton was away having her tonsils removed at the time of our visit and Miss N. W. Brookes was away recovering from the effects of an accident in which she had been riding a tandem bicycle and had sustained a severe spill. Nevertheless, we had the pleasure of meeting Miss Pearson and Mr. Thompson, of District Office Relief Staff, who were helping out.   We also met Miss S. C. Hoyland who comes from Alderley, another delightful spot which was very dear to us in our younger days.    Then Mrs. Hindley joined us and we repaired to the Maccles­field Arms Hotel for lunch. Consideration for our advancing years com­bined with their strong sense of hospitality had impelled our friends at Spring Gardens to send the car to bring us back to Manchester and see us safely out of their District. It was a courtesy we very much appreciated and concluded a visit which was pleasant in the extreme.
<![if !vml]>

<![endif]><![if !vml]>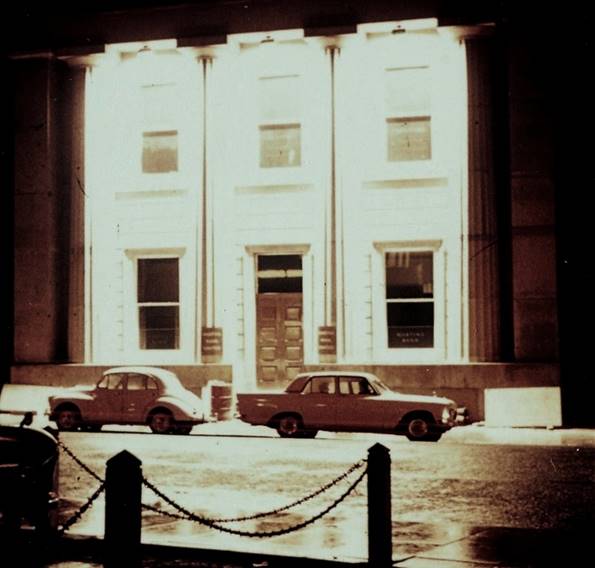 <![endif]>
<![if !vml]>

<![endif]>Martins Bank doesn't just go to extremes to be helpful, it also prides itself on forging links with the communities it serves, and to this end frequently commissions new artworks that reflect the local area, for display in new or refurbished branches.  Occasionally there are features about a building that need to be preserved for future generations. (See also DESIGNING MARTINS).  At Macclesfield the Bank commissions three silk tapestries to depict various parts of the town.  These are also featured in Martins Bank Magazine in 1966 as part of an article entitled "art design and imagination – some distinctive features from branches built or modernised in recent years"…
<![if !vml]>

<![endif]>
(1)<![if !vml]>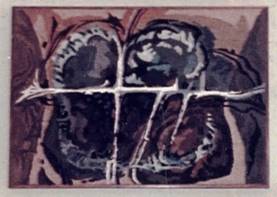 <![endif]>
<![if !vml]>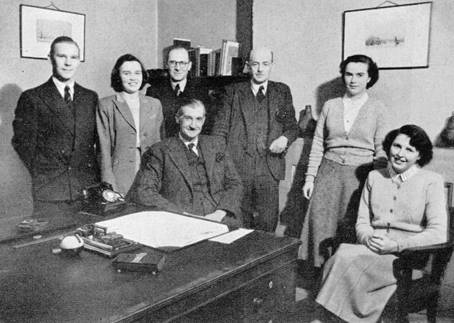 <![endif]>
(3) <![if !vml]>

<![endif]>
Pictures:
(1)   The cross roads with the moat surrounding the town in AD 1100…
<![if !vml]>

<![endif]>
(2)   Town panorama with the road in the foreground, implements of the textile industry, and silk flowing from top right to centre…
<![if !vml]>

<![endif]>
(3)   Historic buildings including the parish church, Friends' Meeting House, and the gaol…
<![if !vml]>

<![endif]>
Macclesfield at the dawn of computerised banking…
<![if !vml]>

<![endif]>
Cheques like this one begin to be issued at the end of the 1950s, once Martins Bank has successfully piloted the processing of the day's work of a Branch on its Pegasus II computer in Liverpool.  An Impossibly large piece of equipment by today's standards, the memory power of Pegasus – whilst sufficient to process the work of 30,000 accounts – would be easily eclipsed by that of a modern day mobile phone or electronic watch.  Our thanks to Stephen Walker for making available the scan below, left, from his extensive collection of Martins Bank memorabilia.
<![if !vml]>

<![endif]>
<![if !vml]>

<![endif]>
<![if !vml]>

<![endif]>
In 1964 Macclesfield is refurbished to bring it into a more modern age, and like many of the older Northern Branches, it is given the new and distinctive Martins "look". These photographs show the transformation achieved.  Out goes the dark wood panelling of yesteryear, and in comes bright lighting schemes, clean lines, and open plan work areas.  Many branches are also treated to a commissioned work from a local artist.  Some branches have ceramic sculture, others have carvings – in Macclesfield's case, it is the tapstries shown above, which can also be seen in one of the images below…
<![if !vml]>

<![endif]>
1891
10 June 1899
3 January 1928
21 June 1941
4 April 1944
15 December 1969
26 October 2001
Currently
The Adelphi Bank
The Lancashire and Yorkshire Bank
Martins Bank Limited
Branch used temporarily by HO Chief Accountants' Dept
 and Manchester District Office
HO Chief Accountants' Dept moves back to Liverpool
Barclays Bank Limited 20-53-78 Macclesfield Park Green
Closed
To Let (January 2018)