<![if !vml]>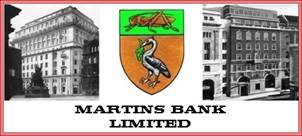 <![endif]>
<![if !vml]>

<![endif]>
<![if !vml]>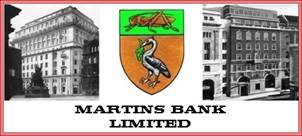 <![endif]>
<![if !vml]>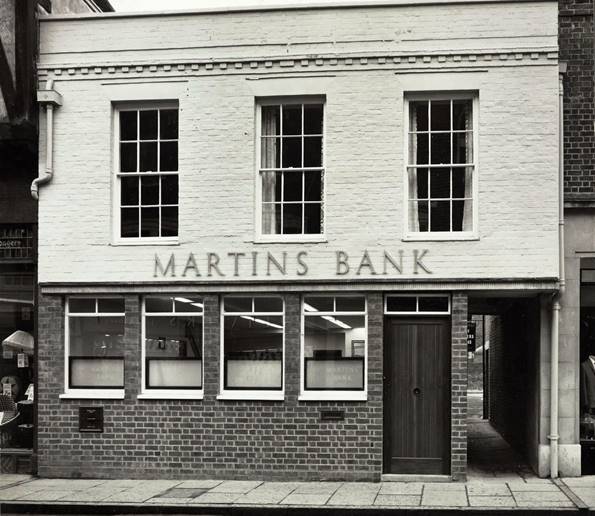 <![endif]>Hampshire is one of Martins Bank's favourite counties, and since the Southwards expansion of branches first added towns and cities such as Southampton in 1935, the bank has not been able to resist setting up shop in the "Home Counties".  The main difficulty for such an old bank as Martins trying to establish a national network, is finding premises that reflect the age and dignity of the longer established Northern outlets. Even Head Office itself is only built in 1932, and although Martin's Private bank in the South, and the Northern Constituent Banks have examples of buildings going back a century or two, it is always going to be hard to convince customers of the history and long standing of Martins Bank with the use of an ultra-modern building.
<![if !vml]>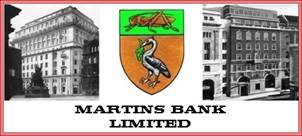 <![endif]>
In Service: 24 January 1963 until 30 December 1988
<![if !vml]>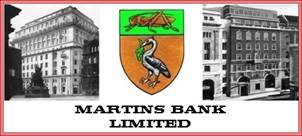 <![endif]>
<![if !vml]>

<![endif]>
Image © Barclays Ref: 0030-3235
<![if !vml]>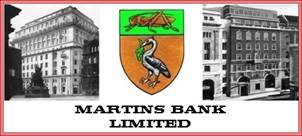 <![endif]>
It is therefore SERVICE and the reputation for good service that is the all important factor in a successful expansion.  Martins Bank moves some of its most experienced Managers from one end of the country to the other, and researches extensively the quality of customer and range of business that can be attracted by the launch of a new office.  The biggest threat comes from the competition, whose own branches are very well established.  So follows the kind of article that is Martins Bank Magazine at its best – a history lesson ( in Winchester it's all about the Cathedral and King Alfred the Great), and a long piece about the pedigree of the staff.  Topped off with a rare colour interior photograph, this visit to Winchester must have made many Northern staff quite envious of the top notch facilities to be enjoyed by their Southern, or Southward moving, colleagues…
<![if !vml]>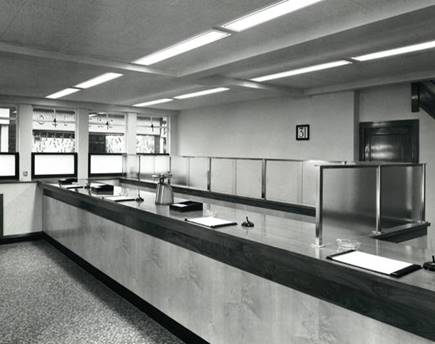 <![endif]>
<![if !vml]>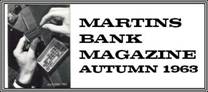 <![endif]>To visit Winchester on a fine day in early summer is to see Old England at its best. There are other fine and ancient cathedral cities but only one which, a thousand years ago, was Alfred the Great's capital. The man who said to us 'Winchester still thinks it is the capital' dropped his voice as though fearful that he might be overheard, for King Alfred's bronze statue stands on huge granite blocks at the foot of the High Street and the inscription reads 'To the founder of the Kingdom and the Nation'. An awesome figure with his cloak thrown back and his sword raised high, King Alfred watches majestically over his city.  The air of permanence, rectitude and history is so very real that one would be prepared to forgive any citizen who claimed 'It couldn't happen here': this would probably be said not with the usual smug complacency but rather in the sure knowledge that Winchester has been through it all before and knows how to meet any contingency. If the calm of Winchester might occasionally be ruffled it could, we feel, be only a very small ruffle and we would say the same for our Manager, Mr D. M. J. Harding, m.a. (cantab), who opened our new branch in January this year.
<![if !vml]>

<![endif]>
<![if !vml]><![endif]>

Image © Barclays Ref: 0030-3235

<![if !vml]><![endif]>

Image © Martins Bank Archive Collections
<![if !vml]>

<![endif]>
The progress of the business to date fully justifies the Bank's faith in its own training and in Mr Harding who is our youngest manager. While one can learn many things there is no magic formula for attracting business but 'Be yourself must surely come high in the do's and dont's. Mr Harding is, all the time, himself and this we liked. He entered the service at Kensington High Street in 1954 under the Graduate Training Scheme and his first signing authority came at Wigmore Street branch in 1961. He attended the Senior Training Course this year. Mr P. J. Blatch, who takes charge very capably in Mr Harding's absence, comes from South­ampton where he entered the Bank in 1954. We spent most of the morning in an unrehearsed game of hide and seek for his counter duties kept him busy but finally we had an entertaining talk which began in the kitchen and continued in the staff rest-room, where we were later joined by Mr Harding bringing with him Mr E. P. Chambers, Chief Cashier of the Bank, who had called while on a caravan holiday.
<![if !vml]>

<![endif]>
<![if !vml]>

<![endif]><![if !vml]>

<![endif]>
By the time this Magazine is published we hope that some of Mr Blatch's roses will have been exhibited successfully at the Bank's Annual Flower Show. The third member of the staff, Mr A. P. C. Dalziel, started his banking life at Lilliput in 1962 having originally intended to enter the Merchant Navy. Judging from his attitude to banking it was hard to believe this was his second choice but adaptability is one of the ingredients essential to success and we shall be surprised if we do not hear a lot more of Mr Dalziel in the years to come. We were sorry that Miss Clarence was away from the office but we arranged that she should appear in the photograph where, her male colleagues assured me, she most certainly deserves a place. She, too, is an import having joined the Bank at Darlington in 1961, coming to Winchester branch when her family moved south. We were joined at lunch by Mr and Mrs Harding and also spent a most enjoyable evening at their charming home at King's Worthy only a few miles out of the city. It was a relief to us to find that a real home, as against a house to live in, had come their way and this house and garden, 140 years old, is something that they and their young son will always remember, more particularly as they spent three months in a hotel while house-hunting. Mr Harding, had, as it were, been 'pipped on the post' for a house he tried to buy in January and when Miss Clarence joined the staff that month and mentioned her new home address… Such things can happen—even in Winchester!
<![if !vml]>

<![endif]>