<![if !vml]>

<![endif]>
There is a Branch here - somewhere…
<![if !vml]>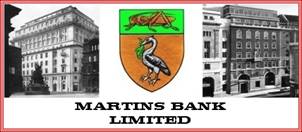 <![endif]>
<![if !vml]>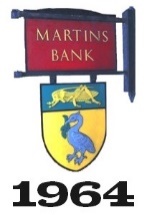 <![endif]><![if !vml]>

<![endif]>East Anglia is an important part of Martins history, because the Bank's chance to expand there is thwarted by the merger with Barclays.  This region really is  the last outpost of the Bank, and there is no reason to believe that a rash of new Branches would not have made its way steadily across Norfolk Suffolk Essex and Cambridgeshire in the 1970s. It has, however proved nigh on impossible for us to source an image of Martins' Branch at the University of East Anglia, another of Martins Bank's modern but short-lived outlets.
<![if !vml]>

<![endif]>
The sub Branch at U E A opens in September 1964, whilst the Campus is still quite shiny and new – we know its address, even the fledgling postcode given to it when Norwich became one of the first cities to try them out.  But a picture? - a picture is hard to find.  So we have settled for a compromise – our friends at the U E A Archive have kindly provided us with a picture of "University Village" as it is known in 1964.  It is home to shops and banks, but we can't tell whereabouts Martins Bank should be.  The University has also kindly provided us with the following words, taken from a press cutting from the Eastern Evening News, 25 September 1964:
<![if !vml]>

<![endif]>
"…a prefabricated banking hall is being built, where all the principal banks will offer facilities to students and staff alike. This building is close to the new senior common room building, the former private house, Earlham Lodge…"
<![if !vml]>

<![endif]>
At least from this fragment of news copy, we can glean some confirmation that the Branch actually exists! 
<![if !vml]>

<![endif]>
University Village circa 1964
Image: University of East Anglia Archive
Inevitably, with "all the principal banks" on offer, Barclays already has a present at UEA, and Martins' Branch closes at the time of the merger of the two Banks in December 1969
Title:
Type:
Address:
Index No and District:
Hours:
Telephone:
Services:
Manager:
11-50-60 Norwich University
Sub to 11-50-60 Norwich
U E A Village Wilberforce Road Norwich NOR 77H
454 London
Term Time: Mon and Wed 1300-1500
Vacation: Wed 1300-1500
Norwich 54697
Counter Only Restricted Hours
Mr E B Thorington Manager (Norwich)