<![if !vml]>

<![endif]>
<![if !vml]>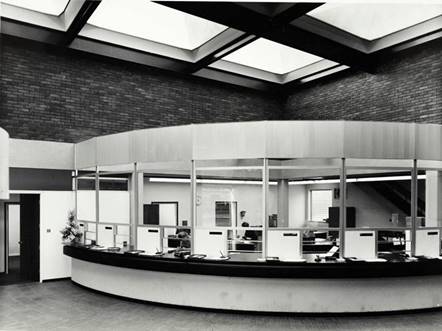 <![endif]>
<![if !vml]>

<![endif]>
Martins Bank opens its Litherland Branch in this unusual looking building in 1931, serving customers from the start of the Liverpool Dock Road which stretches for a good mile or two before eventually reaching the Pier Head, not too far from Head office. Although not officially listed as a sub-Branch, Litherland is shown in the Branch Directory of the time as sharing the same Manager as Bootle Linacre Branch, just a couple of miles away. From the few staff details we have, it does appear that a full Manager is not appointed to Litherland until 1947, and that therefore it was perhaps until that point, a self-accounting sub-Branch run by a Clerk in Charge.
<![if !vml]>

<![endif]>
By 1969 the Litherland Premises are no longer fit for purpose and are demolished to make way for a new building.  So that business can continue in the area, especially with the imminent merger with Barclays, a temporary branch is established nearby in Sefton Street.  This is the first outing for Martins new prefabricated temporary branch, which you can see, inside and out, on our page for LITHERLAND SEFTON STREET. By the time the new Branch is complete, it is already under the ownership of Barclays.
<![if !vml]>

<![endif]>
In Service: 7 December 1931 until 17 October 1997
<![if !vml]>

<![endif]>
<![if !vml]>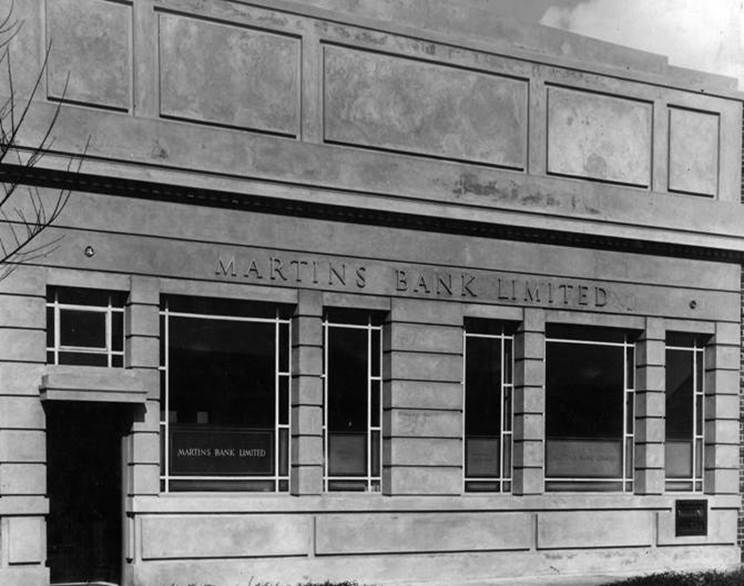 <![endif]>
Image © Barclays Ref 0030-1648
<![if !vml]>

<![endif]>
<![if !vml]>

<![endif]>
<![if !vml]>

<![endif]>
<![if !vml]>

<![endif]>
Extracts from Martins Bank Limited Report and Accounts for 1931 © Barclays
<![if !vml]>

<![endif]>
Further down this page you can see just what replaced this original Branch Building, photographed shortly after it was opened by Barclays in 1970/1.  For our Litherland feature, we journey back a few years to 1958, when Martins Bank Magazine marks the retirement, due to ill-health of Manager Mr Eric Riddiough, who has been at the helm at Litherland for more than ten years…
<![if !vml]>

<![endif]>
A much-needed rest…
<![if !vml]>

<![endif]>
<![if !vml]>

<![endif]><![if !vml]>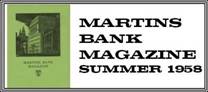 <![endif]>At the end of March Mr. Eric Riddiough was compelled to lay down his burden owing to continued ill-health, and he had not been able to carry out his duties for some months before his decision to retire. In these circumstances no formal presenta­tion ceremony took place, but his friends, unwilling to let him go without some mark of their esteem, got together and raised a fund for a gift which was subsequently taken round to his home and presented privately. He intends to apply the cheque towards the cost of a greenhouse. He entered the Bank at Skipton in 1916, and served in the Forces from 1918-19, afterwards rejoining the Bank at Clitheroe. He was moved to 211, Stanley Road, Bootle, in 1936 and was appointed Clerk-in-Charge at Litherland in 1941, becoming Manager in 1947. We send him our best wishes for a speedy return to health and for many happy years of retirement.
<![if !vml]>

<![endif]>
<![if !vml]>

<![endif]>The 1970s is the beginning of the end for branch banking as we know it. The process of removing the need for the high street bank branch is all but complete in the 2020s.  Below we see the original Litherland Branch being replaced by its futuristic counterpart…
<![if !vml]>

<![endif]>
<![if !vml]><![endif]>

<![if !vml]><![endif]>

<![if !vml]><![endif]>

sp1Images © Barclays Ref 0030-1648

<![if !vml]><![endif]>

<![if !vml]><![endif]>

<![if !vml]><![endif]>
<![if !vml]>

<![endif]>
On the outside, the trees barely make up for the shock of the new, and on the inside the clever use of lighting and open office space marks a major improvement on the previous building, but it lacks soul and with the now necessary bandit screens, the first stage of impersonal banking has arrived…
<![if !vml]>

<![endif]>