<![if !vml]>

<![endif]>
<![if !vml]>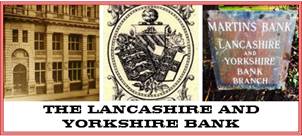 <![endif]>
<![if !vml]>

<![endif]>
The Lancashire and Yorkshire Bank ends its first decade in very good shape, opening new branches in 1881/2 at Bury, Haslingden and Dewsbury, and sub branches at Ramsbottom, Manchester New Cross, and Swinton.  Swinton is originally a sub branch to Pendleton, and our records show Mr G Taylor being in charge of both branches in 1922. By the time of the merger of Martins and Barclays in 1969, Swinton is a full branch open six days a week, but there are some last minute changes afoot: Swinton Shopping Centre is built in 1969, and Martins has already committed to moving its branch there, before the announcement of the merger.  The old branch is closed, and Martins effectively hands over the keys of the new office to Barclays, who have been there ever since.  There is a rare opportunity to look at the new branch with its short-lived Martins signage on our page for SWINTON 145 CHORLEY ROAD.  There is only one short feature in Martins Bank Magazine that relates to Swinton - The Institute of Bankers examinations are taken by a surprisingly large number of male and female bank clerks in the 1950s.  Success brings not only confirmation of one's own competence in the field of banking, it is also a source of great pride to the employer.
<![if !vml]>

<![endif]>
<![if !vml]>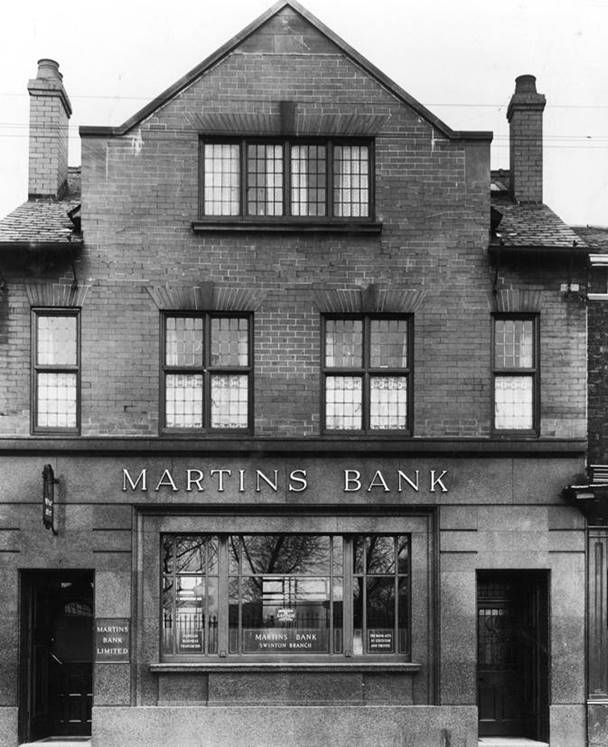 <![endif]>
Image © Barclays Ref 0030/2875
<![if !vml]>

<![endif]>This could be seen as a sort of intellectual equivalent of the many inter bank sporting contests.  In 1950, the Bank is once again delighted with the academic performance of another Martins employee.
<![if !vml]>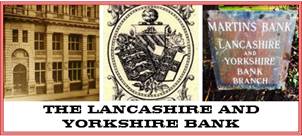 <![endif]>
<![if !vml]>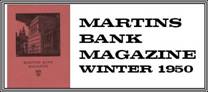 <![endif]>The name of Martins Bank is again well to the fore in the results of the 1950 examinations of the Institute of Bankers and is it particularly pleasing to record the success of a lady member of the staff,  Miss Vera Spencer of our Swinton Branch, in winning the Frank Steele Diploma Prize for Law and Practice relating to Negotiable Instruments in the Banking and Trustee Diploma Examinations Part One.  Well done, Vera!
<![if !vml]>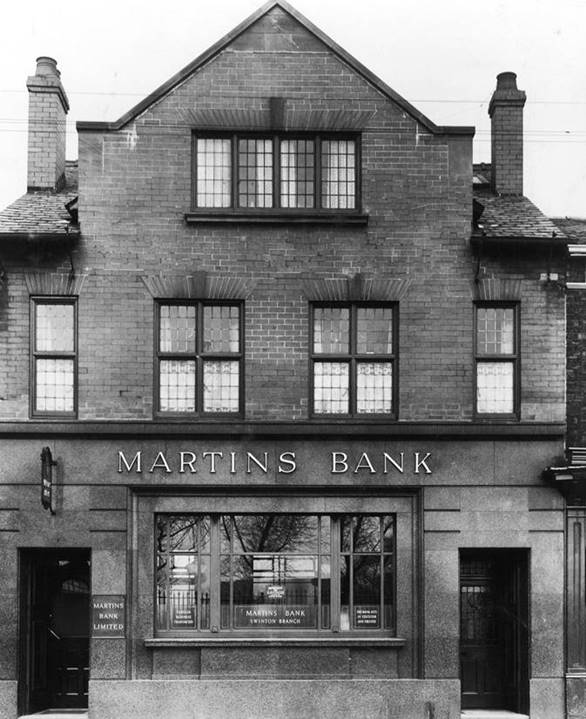 <![endif]>
Title:
Type:
Address:
Index Number and District:
Hours:
Telephone:
Services:
Manager:
11-49-80 Swinton Lancs
Full Branch
137 Chorley Road Swinton Manchester
784 Manchester
Mon to Fri 1000-1500
Saturday 0900-1130
061 794 1941
Nightsafe Installed
Mr A S Dennett Manager
1881
3 January 1928
June 1969
15 December 1969
Currently
Opened by the Lancashire and Yorkshire Bank
Martins Bank Limited
Closed and Moved to 145 Chorley Road
Barclays Bank Limited 20-84-71 Swinton
Opticians