<![if !vml]>

<![endif]>
<![if !vml]>

<![endif]>
<![if !vml]>

<![endif]>
<![if !vml]>

<![endif]>Martins Bank's branch at Anfield is opened in April 1931, and is listed in a Wartime Head Office Circular as closing in February 1942. It actually remains open until September that year.  By this time, the demands of the Kennett Committee on emplyers to release able bodied staff to join the war effort, is causing the closure of Bank branches all over the land, and many of these offices will never re-open. 
<![if !vml]>

<![endif]>
<![if !vml]>

<![endif]>
<![if !vml]>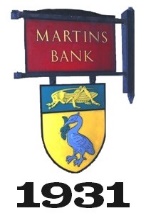 <![endif]>
<![if !vml]>

<![endif]>
Extracts from Martins Bank Limited
Annual Report and Accounts for 1931 © Barclays
<![if !vml]>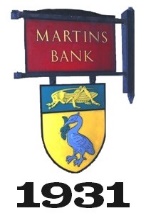 <![endif]>
<![if !vml]>

<![endif]>
Image © 1931 BT
We have not found any reference to Anfield or its staff in Martins Bank Magazine, but the Annual Report and Accounts for 1932 shows that Anfield is managed  by Mr H T Fielding, who is also Manager of Breck Road. We assume that Anfield may well have been a self accounting sub-Branch to Breck Road. The legacy of the Bank of Liverpool is to have created a branch of Martins in just about every corner of the City of Liverpool, so why Martins feels the need to open another Liverpool Branch, and not to re-open it again after the War is a mystery we would like to pursue.  If therefore, you can help with images and/or information about this or any of Martins Bank's 990+ Branch buildings, please do get in touch with us at the usual address gutinfo@btinternet.com.
<![if !vml]>

<![endif]>
Title:
Type:
Address:
Index Number and District:
Hours:
Telephone:
Services:
Manager:
11-478 Liverpool Anfield
Self Accounting sub to 11-449 Liverpool Breck Road
141 Priory Road Anfield Liverpool
8 Liverpool
Mon to Fri 1000-1500
Saturday 0900-1130
ANField 380
Counter Service Only
Mr H T Fielding Manager
7 April 1931
22 September 1942
Currently
opened by Martins Bank Limited
closed for World War 2 but not re-opened
The Anfield Cheque Cashing Company (!!!)