<![if !vml]>

<![endif]>
<![if !vml]>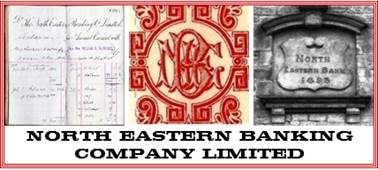 <![endif]>
<![if !vml]>

<![endif]>
The North Eastern Banking Company opens a branch at 200 Linthorpe Road Middlesbrough in 1904, just ten years before merging with the Bank of Liverpool. Middlesbrough is home to a network of Martins Bank outlets, with a total of eight branches and sub branches spread throughout the area. 
<![if !vml]>

<![endif]>
This includes the main branch at Albert Road, and the pioneering employees only sub branch at Middlesbrough's I C I WILTON WORKS.
<![if !vml]>

<![endif]><![if !vml]>

<![endif]>
In Service: 1904 until 23 March 1983 
<![if !vml]>

<![endif]>
<![if !vml]>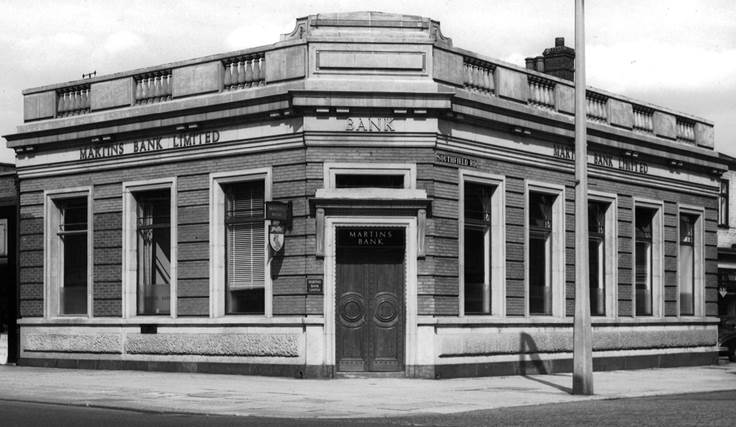 <![endif]>
Image © 1964 Barclays Ref 0030-1892
<![if !vml]>

<![endif]>Of these, sadly NONE is still open today, and Barclays' own branch further down Linthorpe road is also closed in favour of premises at The Mall, closer to the footfall of twenty-first Century shops and businesses.  Today, many banks are closing their older established branches and moving into shop fronts to catch up with the changes in town centres, many of which are nowadays shadows of their former selves… What goes around, comes around, and the use of shop fronts is common practice among the 1960s banks, especially Martins, when it pushes hard to establish as many new branches as possible in the South of England. For our Feature, we journey back to happier and more settle times in the world of banking, and the retirement in 1947 of Mr H R Barker.  Regular visitors to our Archive will know that Martins Bank's Managers often clock up amazingly long service records, and Mr Barker is no exception, having worked for forty-four years, nearly thirty of them as Manager of Linthorpe Road.  The British tradition of giving a gold watch for long service takes what is, for 1947, an unusual and slightly futuristic variation, as we shall see below…
<![if !vml]>

<![endif]>
<![if !vml]>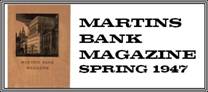 <![endif]><![if !vml]>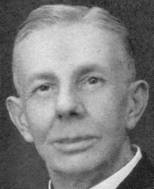 <![endif]>At the end of the year a gathering of pre­sent and former colleagues took place at the Cafe Royal, Middlesbrough, to say farewell to Mr. H. R. Barker, who was retiring after 44 years' service. There was a reception, followed by tea, and Mr. G. R. Rowland, senior official in the branch, presided. Between 30 and 40 people were present, including Mr. W. R. Dixon, former manager at Albert Road, Middlesbrough, and friend and colleague of Mr. Barker for 40 years ; Mr. E. Stephenson, former manager of Stockton-on-Tees, and also a close friend for 40 years ; Mr. G. C. Dresser, assistant manager, Newcastle-upon-Tyne; Mr. W. Stitt, man­ager, Guisborough ; Mr. T. B. Dixon, manager, Redcar ; Mr. G. H. Bennett, manager, Crook ; Mr. S. Fawcett, manager, Millfield, Sunderland; Mr. L. H. Daniel, Mr. Barker's succes­sor ; Mr. F. Robinson, assistant manager, Middlesbrough; Mr. H. S. Gatty, manager, Ferryhill; and Mr. E. G. Lowery, inspector, Newcastle-upon-Tyne.  A telegram of good wishes was received from Mr. D. O. Maxwell, District General Manager, who was unable to be present. After tributes had been paid by Mr. Dresser, Mr. Stephenson and Mr. Fawcett, the presentation of an electric clock was made by Mr. W. R. Dixon on behalf of subscribers. Miss Graham, who was cashier with Mr. Barker for five years, presented Mrs. Barker with a case of silver cake knives and forks. Mr. Barker entered the bank in 1902 at Stockton, and was transferred to Middlesbrough in 1907. After a brief period of service in the first World War he returned to Middlesbrough and in 1919 he was appointed manager of Linthorpe Road branch, where he has remained ever since.
<![if !vml]>

<![endif]>
Title:
Type:
Address:
Index Number and District:
Hours:
Telephone:
Services:
Manager:
Martins Bank Limited 11-47-50 Middlesbrough Linthorpe Road
Full Branch
200 Linthorpe Road Middlesbrough Yorkshire
376 North Eastern
Mon to Fri 1000-1500
Saturday 0900-1130
Middlesbrough 47392/3
Nightsafe Installed
Mr J Winstanley Manager