<![if !vml]>

<![endif]>
<![if !vml]>

<![endif]>
<![if !vml]>

<![endif]>
Bradford is an important centre for Martins Bank, both after its creation in 1928, and for the Bank of Liverpool and Martins before that.  Branches are contributed both from the short-lived Halifax District, which becomes Leeds District in 1928, and from the original branches of the Craven Bank.  The Halifax Equitable Bank merges with the Bank of Liverpool and Martins in 1928, and has already committed to a new Branch in Bradford's Duckworth Lane. 
<![if !vml]>

<![endif]>
Arrangements are made to etch details of both the Equitable Bank AND the newly created Martins Bank, onto the bottom pane of the main front window, and the new branch is opened at the beginning of November 1927.  On 3 January 1928, the new Martins Bank Limited begins life with an extensive network of Branches in Bradford. Allowing for a couple of closures, five of these Branches plus a new sub-Branch at Bradford University remain in service up to the 1969 merger with Barclays. 
<![if !vml]>

<![endif]>
<![if !vml]>

<![endif]>
Image © Barclays Ref: 30/350
<![if !vml]>

<![endif]>Four Centuries of Banking Vol II" (Martins Bank Limited 1968) explains the background of the Equitable Bank, including changing its name and status from a Building Society to a Bank, an extremely popular Share Issue, and a list of Branches that are transferred to Martins, as follows:
An important extension of the business of Martins Bank was achieved in 1927 as a result of the absorption of the Halifax Equitable Bank. The Halifax Equitable Building Society was founded in 1871. In 1899 the Board decided to establish a bank: accounts were being lost almost every week because customers were not issued with cheque books. 
<![if !vml]>

<![endif]>
Extract from Martins Bank Limited Annual Report and Accounts for 1928 © Barclays
<![if !vml]>

<![endif]><![if !vml]>

<![endif]>
<![if !vml]>

<![endif]>Only 2,000 shares of £1 each were to be issued for the Bank. Applications were ten times as great and the number of shares actually issued was 2,395.According to the regulations, no overdrafts were to be permitted, and cheque books were only to be issued to those with a minimum account of £50. The name of the Bank was changed to the Equitable Bank Limited in 1913.
<![if !vml]>

<![endif]><![if !vml]>

<![endif]>
<![if !vml]>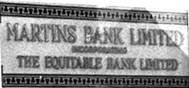 <![endif]>On its acquisition in 1927 by the Bank of Liverpool and Martins Limited, it had sixteen full branches and eight sub-branches—mostly in Lanca­shire and Yorkshire. The Head Office of the Bank was at Halifax and there were branches in Blackpool, Bolton, Bournemouth, Bradford Clayton, Bradford Duckworth Lane, Bradford Great Horton, Brighouse, Bristol, Buxton, Dewsbury, Doncaster, Elland, Grimsby, Harrogate, Haworth, Huddersfield, Hull, Keighley, King Cross, Leeds, Milnsbridge, Morecambe, Ovenden, Ripponden, Sheffield, Sowerby Bridge, Stainland and Wakefield.
<![if !vml]>

<![endif]>
Adapted from FOUR CENTURIES OF BANKING Vol I © Martins Bank Ltd 1963
<![if !vml]>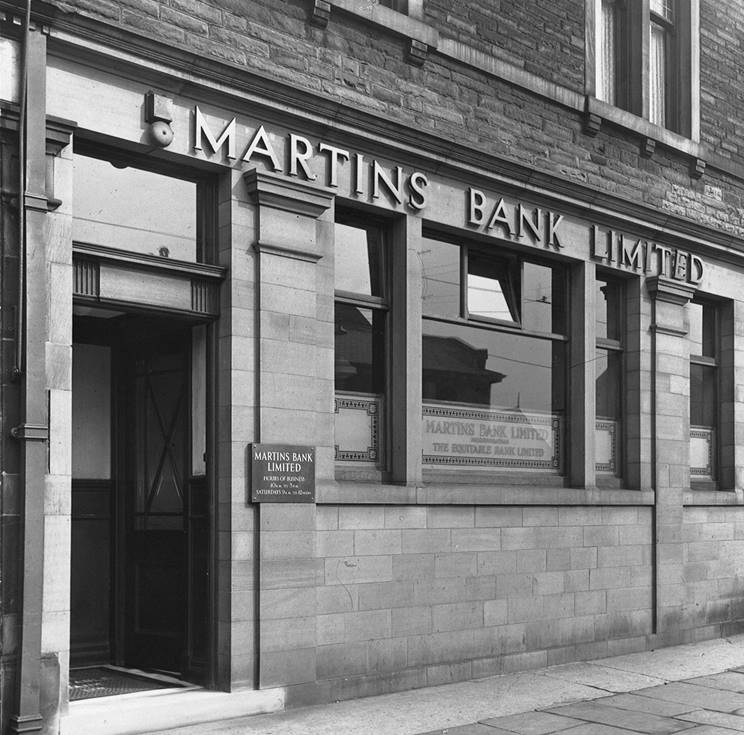 <![endif]><![if !vml]>

<![endif]>
<![if !vml]>

<![endif]>For our "then and now" comparison, we have an image of Duckworth Lane, which comes from its early days as a Branch of Barclays in the 1970s.  The colour image is the latest available from Barclays ahead of the closure of the Branch in December 2015.  In the 1970s we see that not much has changed, apart from the addition of a night safe, and the removal of the etched window panel.  In the twenty-first century the night safe has been replaced by a low-level cash machine…
<![if !vml]>

<![endif]>
Title:
Type:
Address:
Index Number and District:
Hours:
Telephone:
Services:
Manager:
11-40-30 Bradford Duckworth Lane
Full Branch
6 Duckworth Lane Bradford 9 Yorkshire
603 Leeds
Mon to Fri 1000-1500
Saturday 0900-1130
Bradford 42440
Nightsafe Installed
Mr C Johnston Manager
1 November 1927
3 January 1928
15 December 1969
Friday 11 December 2015
Bank of Liverpool and Martins
Martins Bank Limited
Barclays Bank Limited 20-11-76 Bradford Duckworth Lane
Closed permanently at 12 Noon