<![if !vml]>

<![endif]>
<![if !vml]>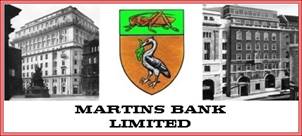 <![endif]>
<![if !vml]>

<![endif]>
<![if !vml]>

<![endif]>Charles Street Leicester attracts huge publicity in 1959 when Martins opens a drive through banking lane at one end of the building. Whilst this is a first for Martins Bank, it is not the first drive-in bank in the UK. The idea however, does last until the late 1980s, yet in the twenty-first century, whilst you can drive-in for all manner of fast things – not least a bewildering array of fast food offerings - fast cash is not one of them. You can read all about the drive-in bank, and the people who worked there on our LEICESTER DRIVE-IN BANK page. In the blaze of publicity surrounding this new and innovative way to do your banking, it is easy to forget what goes on inside the actual Branch at Charles Street.
<![if !vml]>

<![endif]>
<![if !vml]>

<![endif]>
Image © Martins Bank Archive Collection
<![if !vml]>

<![endif]>
Charles Street Interior – streamlined and efficient.
Branch Images © Barclays Ref 30-1597
<![if !vml]>

<![endif]><![if !vml]>

<![endif]>
Much has been written elsewhere on this site of Charles Street Leicester's role in housing the successful Drive-In Bank. Thus far we haven't seen inside the branch, so we'll let this page about the branch be more of an "indoor" thing… Sadly the colour cameras don't venture inside the building when the drive-in first opens, so we'll have to use our imagination a little with the image above. Martins' love affair with "chessboard" floor tiling has arrived, and will dominate the 1960s!Amongst those who step into the banking hall that day, to stand on the chess-board tiles, are some rather important people: The Chairman of Martins Bank, Sir Harold Bibby on the left, smiles broadly as Martins' newest new idea comes to fruition. In the middle is the Minister of Transport, Mr Harold Watkinson, and on the right is the proud manager of Charles Street Branch, Mr J K Cornall. Barclays actually does stay true to Martins' innovation, giving it a good run for its money, and continues to operate the drive-in bank until 1988 – a run of thirty years' service. Charles Street Branch itself last a little bit longer, and closes in March 1993. In 1998 time is backwards for a short time only, as building work at Martins' former Charles Street premises unearths the familiar Martins signage, still carved into the marbled fascia. How well it has stood the test of time, looking not only good as new, but as sophisticated as any modern shop sign. This lovely colour image from 1998 was sent to us by our friend Rob Hancock, who took the opportunity to grab a little piece of history before the building took up its new role as an office of the Derbyshire Building Society. Nowadays the building houses an oriental foods shop.
Mr J K Cornall
Manager
1959 to 1967
Mr A Hill
Limited Authority
1959 to 1961
Mr P T Ryder
Joined the Bank Here
1960 to 1962
Mr A L S Watson
Manager
1967 onwards
Title:
Type:
Address:
Index Number and District:
Hours:
Telephone:
Services:
Manager:
11-36-51 Leicester Charles Street
Main Branch with drive-in banking service
81 Charles Street Leicester
582 Midland
Mon to Fri 1000-1500
Saturday 0900-1130
Leicester
Nightsafe Installed
Drive in facilities
Mr A L S Watson Manager
1959
15 December 1969
1988
19 March 1993
Currently
opened by Martins Bank Limited
Barclays Bank Limited 20-48-83 Leicester Charles Street
Drive-in Banking Service Closed
Branch Closed
Asiana Express Oriental Food Specialist