<![if !vml]>

<![endif]>
<![if !vml]>

<![endif]>
<![if !vml]>

<![endif]>
At the time of the merger in 1906 of The Craven Bank with Bank of Liverpool, there are fifteen main branches, including the Skipton Head Office, and a further twenty-six sub branches including Brierfield, near Burnley.   The later absorption of the Lancashire and Yorkshire Bank brings together a number of branches in the Burnley area, and between 1906 and 1969, if we include a new branch built in 1963, a total of EIGHT Martins' branches and sub branches have existed there - 7 Hargreaves Street, 13 Hargreaves Street, Duke Bar, Manchester Road,  St James Street, Brierfield, 111 Colne Road and Habergham.  Brierfield does enough banking business to warrant full opening hours each week including Saturday morning. 
<![if !vml]>

<![endif]>
<![if !vml]>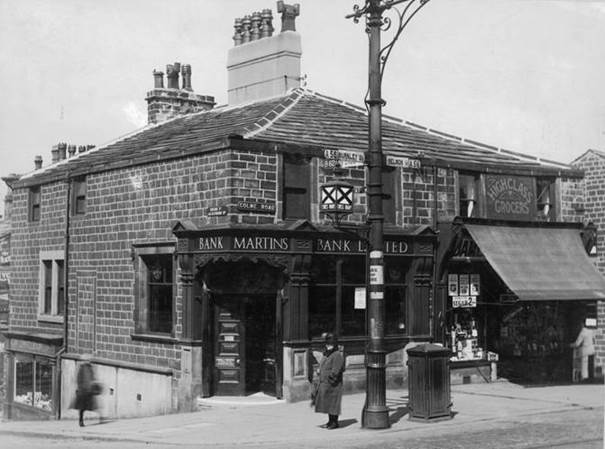 <![endif]>
Image © Barclays Ref 0030/0386
<![if !vml]>

<![endif]>
<![if !vml]>

<![endif]>
One or two chimney pots may have disappeared, but apart from that, Brierfield Sub Branch is just about recognisable today. Brierfield survives the merger with Barclays, and closes its doors as a bank for the final time on 17 June 1988….
<![if !vml]>

<![endif]>
Title:
Type:
Address:
Index Number and District:
Hours:
Telephone:
Services:
Manager:
11-36-20 Burnley Brierfield                            
Sub to 11-36-20 Burnley
4 Colne Road Brierfield Nelson Lancashire
104 Craven
Mon to Fri 1000-1500
Saturday 0900-1130
Nelson 64112
Nightsafe Installed
Mr C D Mudd Manager (Burnley)
1889
23 March 1906
18 December 1918
3 January 1928
15 December 1969
17 June 1988
Currently
Opened by the Craven Bank
Bank of Liverpool
Bank of Liverpool and Martins
Martins Bank Limited
Barclays Bank Limited 20-15-70 Burnley 8 Manchester Road
Closed
Butcher's Shop