<![if !vml]>

<![endif]>
<![if !vml]>

<![endif]>Martins Bank's Bangor Branch opens in 1963, at a time when Martins' expansion into the South, East and West of England and Wales is gathering pace.  Between now and 1969 some of the most up to date bank branches will be opened, offering new standards in comfort for both staff and customers.  Bangor is one of a select few from this period that survives to the present day, celebrating  on 6 June 2013, fifty years of service to the customers aof Martins and Barclays.  Martins Bank Magazine visits Bangor not long after the branch openes for business for the first time, and brings us this article in the Autumn 1963 edition…
<![if !vml]>

<![endif]>
"Education hungry peasants and tradesmen"…
<![if !vml]>

<![endif]>
<![if !vml]>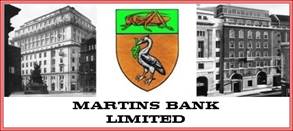 <![endif]>
<![if !vml]>

<![endif]>
To most of us the mention of Bangor brings to mind Telford's Suspension Bridge on the A5 to Anglesey and summer holidays.  To many it is a Welsh market town between historic Caernarvon and Conway, yet few realise that Bangor, with a population of a mere 14,000, is a city with a cathedral founded early in the sixth century only to be destroyed and rebuilt through­out the chequered history of Wales. 
<![if !vml]>

<![endif]>
<![if !vml]>

<![endif]>
Branch Images © Barclays Ref 30/89
<![if !vml]>

<![endif]>
<![if !vml]>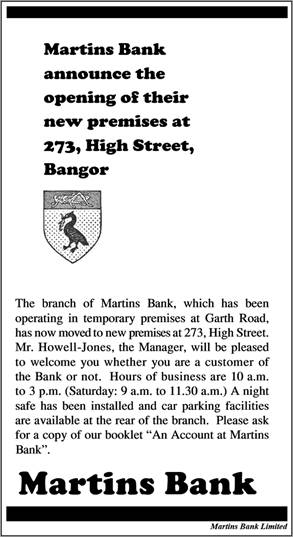 <![endif]>Bangor's civic status is enhanced by the academic atmosphere of the University College of North Wales – the 'College on the Hill' – built only eighty years ago with money from education-hungry peasants and tradesmen. Not surprisingly, therefore, Bangor is proud of what it has done and of what it is doing to-day. It already has a museum, a technical college and a civic centre, but space is Bangor's main difficulty. Lying between the Menai Straits and the moun­tains of Snowdonia, there is little room for expansion and the narrow High Street is already a problem but rebuilding has started. It is in the High Street on a site which is at present a maze of steel girders that our permanent branch is taking shape; for the present, we have a most attractive temporary office less than one hundred yards away, which is a revelation of what can be done in a very short time. Mr H. B. Howell Jones arrived in Bangor on May 23rd to open our new branch, as Manager, on June 6th. He found the shell of a shop in a new building, some scantling and two safes. There were no lights, no telephone, no conduits, but there were some contractors and there was only a fortnight to opening day with the Whitsun holiday intervening. 
<![if !vml]>

<![endif]>The branch opened on time and our Manager's modesty when questioned about events in that memorable fortnight is best summed up in Thackeray's words:  'Although I enter not, Yet round about the spot Oft times I hover.' It was, in fact, all rather hair-raising but it is quite possible that Mr Howell Jones has in recent years consoled himself with the many soporific references to 'everything coming to those who wait.' He may, therefore, have been prepared for everything coming at once when things really began to happen. Almost within a year he has married, bought a new house at Llanfairfechan, become a father, been elected a Fellow of the Institute of Bankers, received his first mana­gerial appointment and, of course, opened a new branch. We hope he will now have time to consolidate his position but, meanwhile, his many friends will be glad to know that his urbanity and charm have not suffered as a result of his recent experiences.  Entering the Bank in 1928 at Manchester Office, Mr Howell Jones worked in the Manchester District until he moved to Rhyl in 1939. In 1946 he went to Colwyn Bay where, since 1955, he had been deputy to the manager. He attended the Domestic Training Scheme in 1960-61 and last year was Chairman of the North Wales (East) Area of the Institute of Bankers. His interests range from debating and foreign travel to ski-ing and climbing and as he is also Welsh speaking we can look forward confidently to the success of the new branch.
<![if !vml]>

<![endif]>Mr D. W. S. Parry, who came from Wrexham to occupy the second position also speaks Welsh. He entered the Bank in 1947 at Wrexham and all his service has been spent there and at Chester and Hoole branches with two periods on relief.He has already found a bungalow at Benllech, in Anglesey, to which his family has moved, so his energy and ability will have full scope in helping to build the new business. Mr Colin Jones, a native of Wrexham, entered the service at Oswestry in 1961, moving to Chester last year. He has somehow managed to find accommodation in Bangor which is no easy task in view of the competition from the University for suitable lodgings and is making the most of the oppor­tunities to learn as the new business grows. The young lady member of the staff,  Miss L. A. Bowles, was unhappily away from the office as the result of a very nasty road accident but she was back at home after a spell in hospital and we were very ready to agree when Mr Howell Jones suggested that arrangements for the photograph of the staff might be deferred until she was sufficiently well to travel from her home beyond Caernarvon. By the time this Magazine is published, we hope Miss Bowles will be back in the team of enthusiastic pioneers at Bangor
<![if !vml]>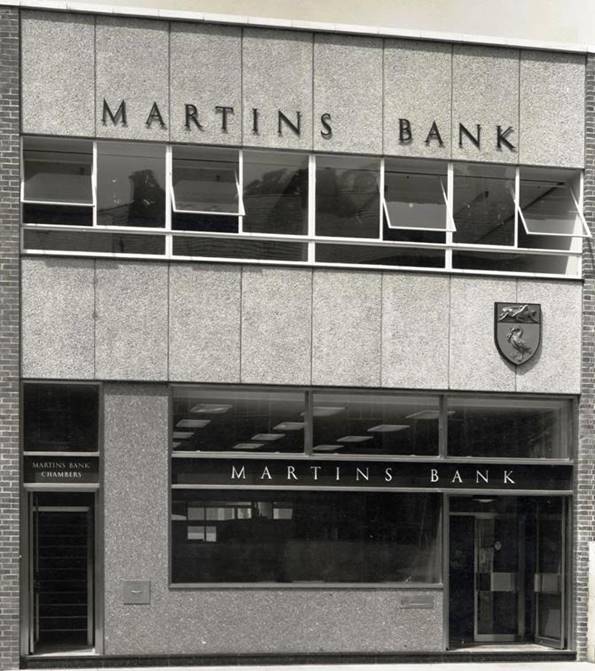 <![endif]>