On three sides of the bank chamber the arched spaces are filled in with coloured panels representing shipping, trading and the arts. the glass ceiling is divided into compartments on each of which is shown the arms and devices of Lancashire boroughs}.
<![if !vml]>

<![endif]>
Text abridged, and some images from FOUR CENTURIES OF BANKING © MARTINS BANK LIMITED 1968
<![if !vml]>

<![endif]>
<![if !vml]>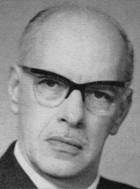 <![endif]><![if !vml]>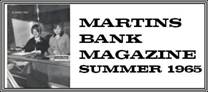 <![endif]>The ill health which caused premature retirement at the end of March also prevented Mr Gregory, Accountant at Brown Street, Manchester, meeting the staff and others who had subscribed to his retirement gift. The Manager, Mr H. J. Southworth, with Mr Gregory's successor, Mr C. Knowles, called on their colleague at his home to hand him a cheque which carried with it the good wishes of everyonefor the future. They were pleased to find him very much better and now able to spend more time in his workshop which is very well equipped with tools of all sorts. Some of the gift money will add to his equipment. In retirement he and his wife will continue to live in their present home which stands on the hillside, 800 feet above his native town of Darwen. It was at Darwen branch that Mr Gregory entered the Bank in 1925 and he spent all his career at branches in the Manchester District. He received signing authority at Brown Street branch in 1956 and was appointed Accountant the same year.
<![if !vml]>

<![endif]>
<![if !vml]>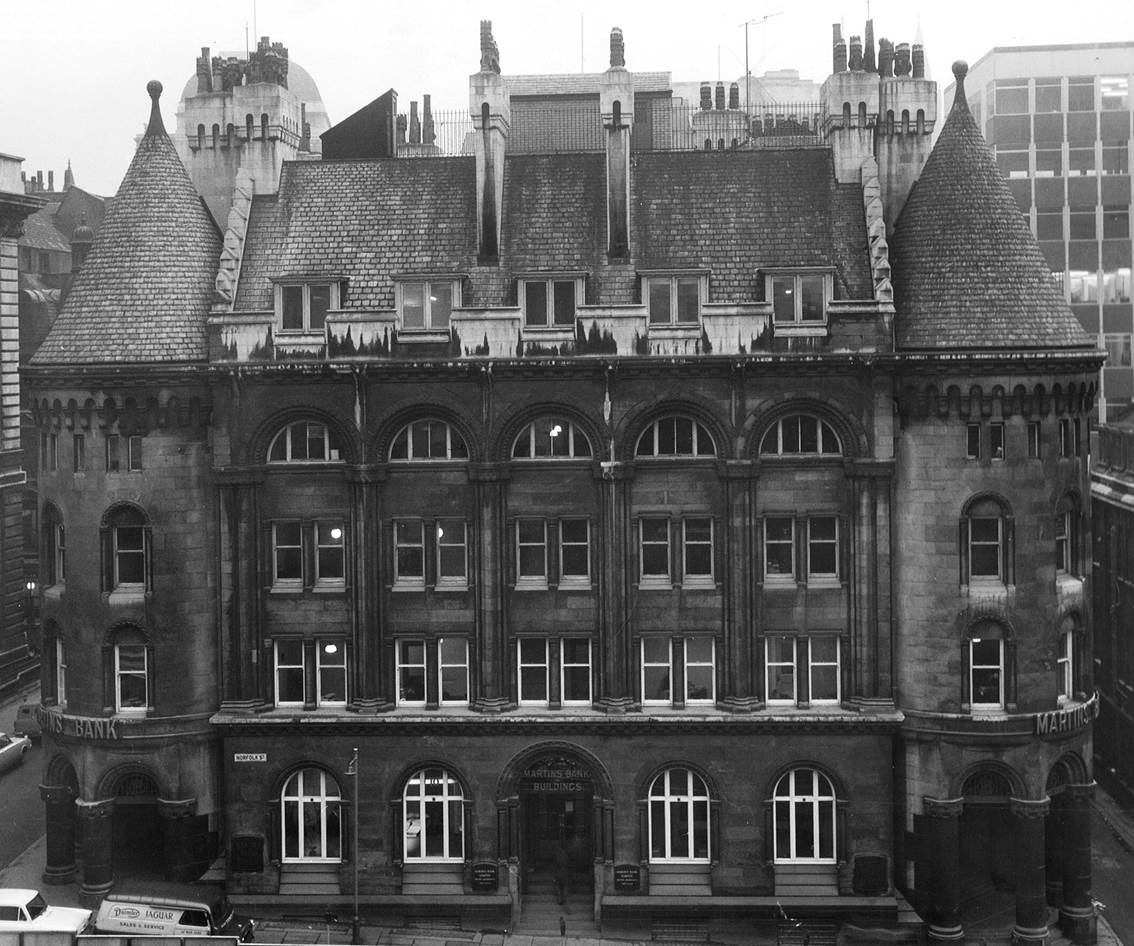 <![endif]>
<![if !vml]>

<![endif]>
An entrance at either end, AND one in the middle! The Norfolk Street entrance leads to Martins Bank's Manchester Trust Company Headquarters.
Brown Street Branch also houses training rooms and a large staff restaurant for use by the staff of the Manchester Branches.
Image © Barclays Ref 0030/1800
<![if !vml]>

<![endif]>
<![if !vml]>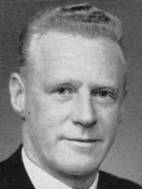 <![endif]><![if !vml]>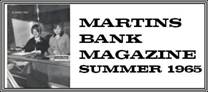 <![endif]>On the evening of 30th April, in the Reform Club Manchester, a party was held to mark the retirement of Mr Southworth, Manager of Brown Street branch. After brief introductory remarks by the new Manager, Mr D. C. Reilly, Mr E. H. Priestley, who had entertained Mr Southworth to lunch earlier in the week, spoke of his pleasure at being asked to make the presentation in view of his earlier associations both with Mr Southworth and with the branch. Mr Southworth's long service in the centre of Manchester, said Mr Priestley, had made him one of the best-known managers in the city and he quoted from an old staff report, stressing the qualities of integrity and kindliness which had made John Southworth liked and respected throughout the service. He then presented a handsome leather-bound book bearing the Bank's coat-of arms and the names of 128 subscribers, and a bill of exchange drawn on Brown Street branch. After thanking Mr Priestley for his remarks Mr Southworth spoke about his early introduction to banking, adding that all his service, which began in 1922, had been spent in head offices or ex-head offices of Manchester banks: the Mercantile Bank of Lancashire, the Lancashire & Yorkshire Bank and the Palatine Bank. As would be expected of John Southworth, he spoke of the store he laid by the value of the lasting friendships he had formed in the Bank. The money is to be used to buy a pair of binoculars which Mr Southworth will use in pursuing one of his life long interests— travel. During an extremely busy month Mr Southworth entertained his entire staff to a theatre outing to see 'The Red Navy', which was preceded by dinner and proved a memorable occasion. His first Bank appointment was in 1943 when he became an Inspector at District Office and two years later, he was appointed Manchester District Inspector. He moved to Brown Street branch as Sub Manager in 1952 and was appointed Manager in 1960.
<![if !vml]>

<![endif]>
<![if !vml]>

<![endif]>The grandeur of Brown Street might have faded a little since it was the Head Office of the Palatine Bank, but at least this lovely building still stands. Alan Thomond, who has taken a large number of "then and now" comparison photos for us, sees Brown Street Branch every time he donates blood at a nearby collection centre. The magnificent chinmeys are still in place, and look to us to be large enough to bring down the whole building in a strong wind. Luckily this replica of John O' Gaunt's Castle looks ready to survive at least another century…
<![if !vml]>

<![endif]>