<![if !vml]>

<![endif]> 
It is the sheer size of the building makes Broadmead the ideal choice to house the Centralised Posting Unit, where the work of several local branches is processed together by a dedicated team of accounts staff.  Broadmead is also one of twenty-one Martins Bank Branches that actually "take over" their local Barclays Branch at the time of the 1969 merger.  The premises at 60 Union Street are deemed superior to those of Barclays own Broadmead Branch which is closed on 12 December 1969. Martins Bank Magazine makes its one and only visit to Broadmead Branch in the Autumn of 1959…
<![if !vml]>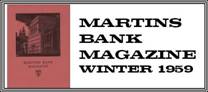 <![endif]>As our train steamed into Bristol in the early afternoon of October 15th our objective was the branch at Broadmead, opened two years ago, but only now, for a variety of reasons, receiving its rightful visit. We expected the usual new branch set up, two or three men and a girl, a fairly quiet counter, empty shelves in the safe custody part of the strongroom, loads of space for future expansion, staff finishing around 5 p.m., a handful of cash and a modest bunch of accounts. How wrong we were! Broadmead has been chosen to operate the centralised posting system and the book-keeping of our other Bristol branches is concentrated there. Thus you have the somewhat unusual spectacle of a new branch being itself fully mechanised from the start, and a much larger staff than one is accustomed to find at a newly opened branch.
<![if !vml]>

<![endif]>
In distance Broadmead is not very far from Corn Street and the need for the second branch is not immediately apparent to the stranger. The position is, roughly speaking, comparable with Lombard Street Office and a West End branch. Corn Street is in the heart of the commercial quarter, while Broadmead is in the centre of the shopping area. The old shopping centre was largely destroyed during the last war and the scars still remain, either as ruins or as open spaces. The decision was taken to make the new shopping centre a short distance away in the area known as Broadmead and here a fine area of new streets and shops has been laid out and built and it was obvious that banking service would be needed. Placed where it is, right in the middle of a thriving new area the new branch has been just about as busy as it could be light from the start and one experiences a feeling of exhilaration on walking into the place and noting the activity on every hand. In Mr. A. C. Bater the branch has a manager of the right temperament to take everything in his stride and he and his staff have certainly had to work hard since the branch opened its doors.
<![if !vml]>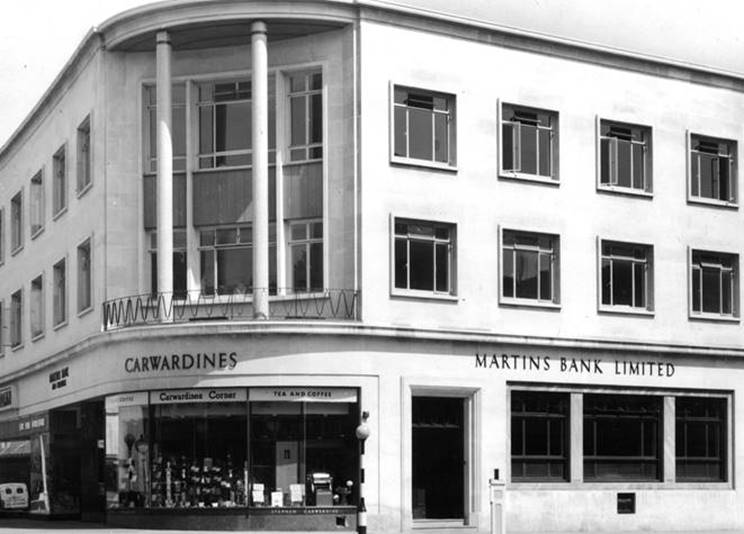 <![endif]>Mr. Bater entered the Bank in 1938 at Liverpool City Office and subsequently served at Heswall and West Kirby before joining H.M. Forces in which he served from 1939 to 1946. On returning he went to Meols and later in 1946 to Branch Department, Head Office. In 1950 he became second-in-command at Stafford and in 1955 he took up a similar position at Worcester. The managership of Broadmead branch in 1957 was his first appointment. He has an excellent second-in-command in Mr. B. H. Crossey whose previous service embraces Bath and Clifton with a spell in H.M. Forces sandwiched in between. Mr. Crossey is a keen, thoroughly dependable and most competent second man.
The First Cashier is Mr. G. E. Holbrook whose previous service has been at Bristol and Clifton. Here, too, an experienced and competent man was needed to cope with the very large daily intake of cash and Mr. Holbrook fills the bill admirably. Mr. M. B. Gallagher is the junior male clerk and because of the liaison with Clifton and Corn Street a messenger is needed as part of the permanent staff: Mr. R. P. Lovell is the representative of the non-clerical staff. Because of the mechanisation and the work involved in doing the posting and statements of three branches a good control clerk was needed and Mr. C. J. Wall, from Bath branch, looks after this side of the branch activities. Mr. Wall met his wife at Bath branch, and she is still there.
Of the girls Miss E. L. Forward is the senior in length of service and is training to be a cashier. Miss A. M. Lewis is the oldest girl on the staff and she and Miss J. R. Brown are typists and machinists. Miss I. S. West is the third machinist. Mr. Bater believes in inter-changeability and the efficiency of his staff is being considerably improved by his plan of making everyone know everyone else's job. Later on, the day of our visit we had the pleasure of going out to the home of Mr. and Mrs. Bater, at Keynsham, about half way between Bristol and Bath. Mrs. Bater was formerly Miss Edna Jennings of H.O. Income Tax Department and is the sister of Mr. J. H. Jennings, Personal Assistant to the Chief General Manager. The visit was of exceptional interest, for we have never before visited a new branch like this one, with problems and complexities of management which are usually associated with much older businesses.
<![if !vml]>

<![endif]>