<![if !vml]>

<![endif]>
<![if !vml]>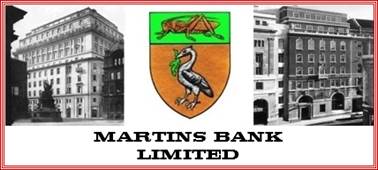 <![endif]>
<![if !vml]>

<![endif]>
<![if !vml]>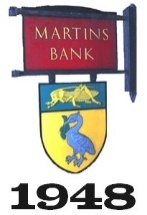 <![endif]>Martins Bank opens this attractive little Branch at Stafford in 1948, as part of the post War effort to grow the Bank into the Midlands, South and West. Once more the Bank cheats a little, by going for a "mock Tudor" look, to give the impression of security stability and great "age". In the county of Staffordshire alone, there are fifteen branches by the time of the 1969 merger with Barclays.  Today, NONE of these branches is still open, although Barclays does have its own offices at different addresses in some of the same towns.  This is currently the only period image of Stafford Branch, seen here as Barclays in 1973. Nowadays this 15 Greengate Street is a highly popular Café known appropriately as Number Fifteen.  We do also have some images of the branch staff in the gallery below, and the following visit made to Stafford by Martins Bank Magazine in 1957…
<![if !vml]>

<![endif]>
<![if !vml]>

<![endif]>X
Image © Barclays Ref 0030/2759
<![if !vml]>

<![endif]>
<![if !vml]>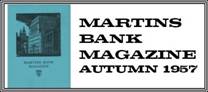 <![endif]>Our Visit to Stafford on 25th July was made within a few days of the ninth anniversary of the opening of the branch.   It was our first visit to the town although, in common with most people, we have often passed through its station on our journeyings South. Stafford is a town of a little over 40,000 people and the largest single employer of labour is the English Electric Company which absorbs over half the available labour force of the place. There are one or two well-known shoe factories, in­cluding Lotus, and there is the Universal Grinding Wheel Company, seen from the train quite close to the station. As a town it is undistinguished, with few outstanding shops and little of architectural note except St. Mary's Church, half way towards being the local cathedral and very beautiful inside, and the castle, which is not very old, being built to replace an earlier structure.
<![if !vml]>

<![endif]>Stafford figured in the Civil War and King Charles I stayed in the town in a lovely old building quite close to our branch, from a bedroom of which he is reputed to have amused himself by taking pot shots at a prominent landmark nearby. A plaque on the wall commemorates his stay. Mr. Armatage met us at the station and took us out to his home which is situated in a private park only a few minutes away from the centre of the town in a most attractive residential neighbourhood. One might be miles away, yet the busy main roads are only two or three minutes away by car. Here we received a most cordial welcome from Mrs. Armatage and after a brief stay to admire their home we all went to lunch at a country hotel on the outskirts of the town. Afterwards we made our way to the branch where we were very pleased indeed to meet once again Mr. J. R. D. Chapman, whom we had met on a similar occasion when visiting our branch in Worcester in 1952. He has been at Stafford since 1955. Mr. Armatage himself entered the Bank in 1917 at Quayside. In 1930 he went to Laygate and in 1937 was appointed Pro Manager at Gateshead and Manager in 1941. Five years later he was promoted to be Manager at Low Fell and he opened the branch at Stafford in 1948. Mr. G. J. Willatt entered the Bank in July 1956 after some business experience at the offices of the Staffordshire County Council. Miss D. M. Haughton has been at the branch since August 1953 and before that she spent five years at the offices of the Council also.
One is struck by the very happy spirit prevailing at the branch and while this is characteristic of many branches, in Stafford it was especially noticeable. The branch has made good progress in the difficult years since it opened and Mr. Armatage is to be complimented on a good job of work. One of the causes with which he has specially identified himself in Stafford is the Staffordshire Branch of the British Red Cross Society, of which he is County Treasurer, and in the course of this work he has made many good friends, among them being the Countess of Lichfield, herself an indefatigable Red Cross worker.  After finishing at the branch we were greatly privileged to be allowed to visit Shugborough and, following tea with the Earl and Countess, to be personally shown by the Countess some of the priceless treasures their lovely home contains. In the next issue of the Magazine we propose to make more detailed reference to this visit as we are sure it will be of great interest to many of our readers. We used every minute of our stay in Stafford to good purpose and in fact, caught the 8 p.m. train homewards with only half a minute to spare. A day to remember.
<![if !vml]>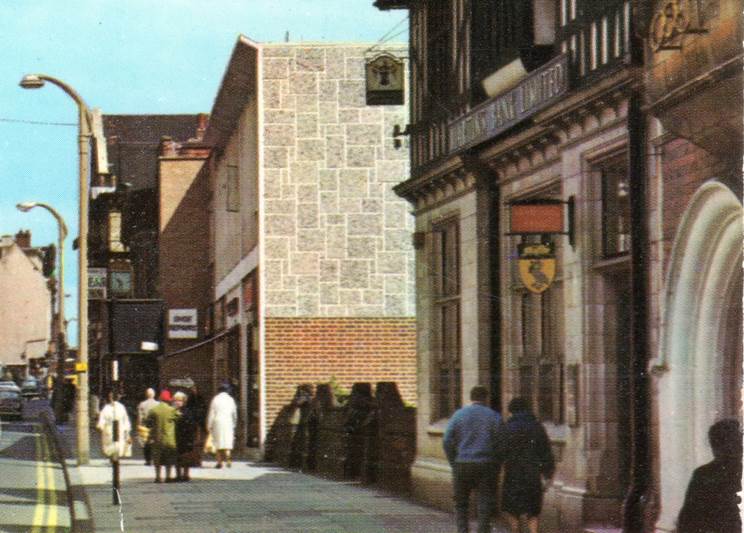 <![endif]>
Mr C B Armatage
Manager
1948 to 1962
Mr J R D Chapman
On the Staff
1955 to 1968
Miss D M Haughton
On the Staff
1957
Mr G J Willatt
On the Staff
1957
Title:
Type:
Address:
Index Number and District:
Hours:
Telephone:
Services:
Manager:
11-19-80 Stafford
Full Branch
15 Greengate Street Stafford Staffordshire
596 Midland
Mon to Fri 1000-1500
Saturday 0900-1500
Stafford 2858
Nightsafe installed
Mr C G Cripwell Manager
26 July 1948
15 December 1969
31 March 1983
Currently
opened by Martins Bank Limited
Barclays Bank Limited 20-80-99 Stafford Greengate Street
Closed
Café