<![if !vml]>

<![endif]>
<![if !vml]>

<![endif]>
Martins Bank operates a number of successful cattle market branches, many of them inherited from the various banks that came together to form the modern-day Bank in 1928. Many more were opened by Martins right up to the mid 1960s.  Others have remained opened to this day, or have only recently been closed such as the Kendal and Lancaster Auction Mart branches.
<![if !vml]>

<![endif]>
<![if !vml]>

<![endif]>
Image © Barclays 1928
<![if !vml]>

<![endif]>
Chester Cattle Market was an agency operated by the Lancashire and Yorkshire Bank, opened in Novemebr 1922.  It closed in 1928 around the time of the merger of the Lancashire and Yorkshire with the Bank of Liverpool and Martins. 
<![if !vml]>

<![endif]>
<![if !vml]>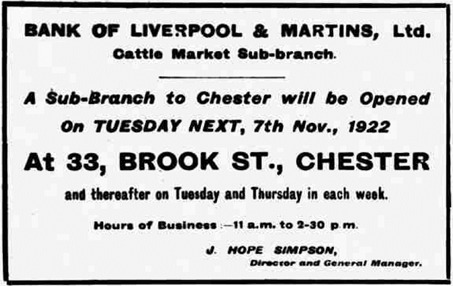 <![endif]>
<![if !vml]>

<![endif]>
Cheshire Chronicle 4 November 1922
Image © Trinity Mirror Image created courtesy of THE BRITISH LIBRARY BOARD. Image reproduced with kind permission of The British Newspaper Archive www.britishnewspaperarchive.co.uk
Title:
Type:
Address:
Index Number and District:
Hours:
Telephone:
Services:
Manager:
11-185 Chester Cattle Market
Sub to 11-185 Chester
33 Brook Street Chester Cheshire
11 Liverpool
Tuesday 11 am to 2.30pm
Thursday 11 am to 2.30pm
No Telephone
Counter Service only
Mr H E Evans Manager (Chester)