<![if !vml]>

<![endif]>
<![if !vml]>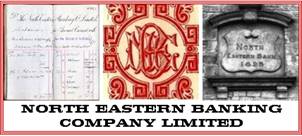 <![endif]>
<![if !vml]>

<![endif]>
"Turn again Wilkinson, Mayor of Sunderland"…
<![if !vml]>

<![endif]>
The North Eastern Banking Company opens a branch at Southwick in 1900.  The image above, displayed with the kind permission of our friends at the Sunderland Echo,  shows Southwick in the 1950s before the branch has a makeover.  The results can be seen below, a new exterior and bright welcoming interior. By the  time of the 1969 merger with Barclays, there have been a total of NINE Sunderland Branches, at Chester Road, Fawcett Street, Fulwell, Grangetown, Hendon, Millfield, Monkwearmouth, Pallion, and  Southwick.  Southwick is amongst the branches that are mothballed for part of the second world war, so that larger branches can be adequately staffed.  In 1964 Martins Bank Magazine meets a rather special member of the Sunderland staff.  By day he is the guard at Southwick and Fulwell sub branches, but by night he is something of a Dick Whittington character -  well, almost.  He's had quite an eventful life; having spent fifty years working for a colliery, he has met the Duke of Edinburgh twice, and he is now leaving the world of being a bank guard behind, to become the Mayor of Sunderland…
<![if !vml]>

<![endif]>
<![if !vml]>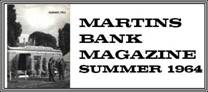 <![endif]>
<![if !vml]>

<![endif]>
Mr Robert Wilkinson retired on May 9th after serving four-and-a-half years as bank guard at Southwick and Fulwell sub bran­ches.  Eleven days later he became Mayor of Sunderland. Always keenly interested in local govern­ment Mr Wilkinson was elected a member of Sunderland County Borough Council in 1945 and raised to the Aldermanic bench in 1959.
<![if !vml]>

<![endif]>
<![if !vml]>

<![endif]>During the past year, as Deputy Mayor, he has twice had the honour of meeting H.R.H. the Duke of Edinburgh. Before joining the Bank Mr Wilkinson worked at Wearmouth Colliery for fifty years, apart from service in Italy during the first world war. He has always been a keen sportsman. In his younger days he was wicket-keeper for Wearmouth Colliery C.C. and has been a life-long supporter of Sunderland Football Club.
<![if !vml]>

<![endif]>
<![if !vml]>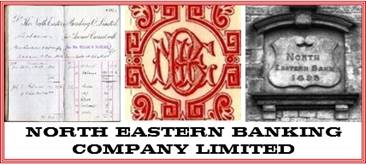 <![endif]>
<![if !vml]>

<![endif]>
Image © Sunderland Echo
<![if !vml]>

<![endif]>
His Bank service has been thoroughly enjoyable, he assures us, as it has enabled him to widen his circle of friends. Although both staff and customers are sorry to lose him, all wish him a very successful year as Mayor of Sunderland.
<![if !vml]>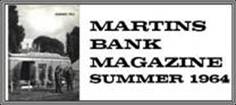 <![endif]>
Mr B Raine
Clerk in Charge 1908-10 Manager 1927-47
Mr A E Mennear
On the Staff
1927 to 1934
Mr Robert Wilkinson
Bank Guard
1959 to 1964
Mr A Cuthbert
Clerk in Charge
1966 onwards
Title:
Type:
Address:
Index Number and District:
Hours:
Telephone:
Services:
Manager:
11-10-80 Sunderland Southwick
Full Branch
13 The Green Southwick Sunderland County Durham
378 North Eastern
Mon to Fri 1000-1500
Saturday 0900-1130
Sunderland 3311
Nightsafe Installed
Mr A Cuthbert Pro Manager
1900
7 August 1914
18 December 1918
3 January 1928
1942
1946
12 December 1969
Currently
Opened by the North Eastern Banking Company
Bank of Liverpool
Bank of Liverpool and Martins Limited
Martins Bank Limited
Closed for World War 2
Re-Opened
Closed and business tranferred to Barclays Southwick 9 The Green
Tanning Salon