<![if !vml]>

<![endif]>
<![if !vml]>

<![endif]>We are grateful to Friend of the Archive Gavin Hunter for tracking down this wonderful (albeit slightly photo-shopped) image of Martins Bank's Dacre Hill Branch, and for obtaining permission for us to use it on this page. The Wirral peninsula comes to a head at Birkenhead and Wallasey, and this is where Branches of Martins Bank can be found at every twist and turn – At Birkenhead there is Hamilton Square, Borough Road, Charing Cross, Claughton Village, Dacre Hill, Higher Tranmere, Park, Prenton, Rock Ferry, Upton, and Woodside Lairage.
<![if !vml]>

<![endif]>
<![if !vml]>

<![endif]>
<![if !vml]>

<![endif]>
Add to this a further seven Branches at Wallasey, and many more stretching back down the peninsula to Ellesmere Port, and you will see Martins Bank's dominance of this area.  Martins' sub-Branch at Dacre Hill is really quite short lived, being opened in 1930 and mothballed in 1942 but not reopened after the Second World War.
<![if !vml]>

<![endif]>
<![if !vml]>

<![endif]>
Image © The William Champion Magazine
<![if !vml]>

<![endif]>
<![if !vml]>

<![endif]>
<![if !vml]>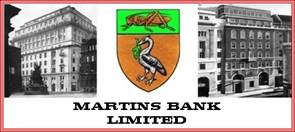 <![endif]>Branches of the Bank have been opened (or will shortly be opened) in London (213, Baker Street, N.W.1, 32, Lowndes Street, S.E.1, and 27/29, Tothill Street, S.W.1.); Rock Ferry (Dacre Hill); Nottingham and Redcar; and Sub Branches have been opened at Barrow-in-Furness (Rawlinson Street) (Sub to Barrow-in-Furness) ; Liverpool (Springwood, Mather Avenue) (Sub to Garston) ; and Southampton Docks (Sub to Southampton). Premises for new Branches have been acquired at Liverpool (Anfield); Eastham, Cheshire; Gateshead (High Street); and Middlesbrough (Newport Road).
<![if !vml]>

<![endif]>
Extract from Martins Bank's Annual Report for 1930 © Barclays
<![if !vml]>

<![endif]>
<![if !vml]>

<![endif]>
Image © BT 1931
As a result of the terrible staff shortages caused by the War, many of the Bank's Branches are mothballed for the duration. Unfortunately a significant number are not re-opened. We do not have a record of the opening hours at Dacre Hill, and if you can help with details, memories or images of this or any of Martins Bank's 980+ other Branches, please do get in touch with us by clicking HERE.
<![if !vml]>

<![endif]>
A Birkenhead Empire…
With the sea on three sides, the Wirral Peninsula is home to some of Cheshire's most exclusive addresses, and it seems that the 1930s are the heyday for the presence of Martins Bank Here.  In addition to the many Wirral Peninsula Branches mentioned above, Birkenhead has no less than TWELVE Branches all open at the time of this extract from Martins Bank's 1932 Annual Report:
<![if !vml]>

<![endif]>
Image © Barclays 1932
<![if !vml]>

<![endif]>
We would be surprised if there were as many cash machines as that in Birkenhead nowadays, let alone Branches of one particular Bank! Incidentally, George Ball, listed as Manager of Birkenhead 50 Hamilton square above, becomes what Martins Bank Magazine will come to refer to as a "pioneer" when he moves South to open the first of Martins Bank's Birmingham Branches in 1935/6.
Title:
Type:
Address:
Index Number and District:
Hours:
Telephone:
Services:
Manager:
Martins Bank Limited 11-085 Dacre Hill                             
Sub to 11-085 Birkenhead Rock Ferry
612 Old Chester Road Dacre Hill Cheshire
34 Liverpool
Mon to Fri 1000-1500
Saturday 0930-1100
ROCk Ferry 1327
Counter Service Only
Mr C Barlow Manager Rock Ferry (1932)