<![if !vml]>

<![endif]>
<![if !vml]>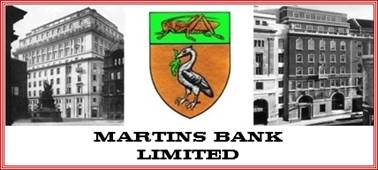 <![endif]>
<![if !vml]>

<![endif]>
<![if !vml]>

<![endif]>1929 is a bumper year for the opening of new Branches and sub-Branches of Martins Bank, and Holloway Road has the honour of being first on the list announced in that year's Report and Accounts. Holloway Road is one of the first London Branches to be opened after the creation of the modern day Bank.  It spends nearly eleven years at 65a Holloway Road, before being moved in 1940 to 405 HOLLOWAY ROAD.  Sadly there are no images currently available of No 65a. 
In Service: 4 March 1929 until 1940
<![if !vml]>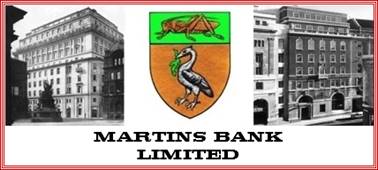 <![endif]>
<![if !vml]>

<![endif]><![if !vml]>

<![endif]>
<![if !vml]>

<![endif]>
Extracts from Martins Bank Limited Annual Report and Accounts 1929 © Barclays
<![if !vml]>

<![endif]>
<![if !vml]>

<![endif]>
Image © BT 1938
We do however have its details recorded in Martins Bank's Annual Report and Accounts every year from 1929 to 1939, and also a listing in the London Telephone Directory which is shown above.  The first Manager of Holloway Road Branch is Mr W A Catford, who is in charge from 1929 to 1933.  From 1934 until around 1940/1 Mr L H Heaton is in Charge. Again we do not have their images for inclusion in our usual staff gallery.  Your help is as ever invited and appreciated with images and/or information about this or any of the 970+ Branch buildings used by Martins Bank, and you can contact us at the usual address – gutinfo@btinternet.com. 
<![if !vml]>

<![endif]>
Title:
Type:
Address:
Index Number and District:
Hours:
Telephone:
Services:
Manager:
11-06 London 65a Holloway Road
Full Branch
65a Holloway Road  London N7
421 London
Mon to Fri 1000-1500
Saturday 0900-1130
NORth 3455
Counter Service
Mr L H Heaton Manager