<![if !vml]>

<![endif]>
<![if !vml]>

<![endif]>
<![if !vml]>

<![endif]><![if !vml]>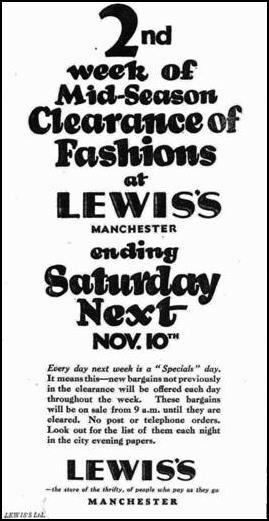 <![endif]>In its heyday, Lewis's is Britain's largest chain of department stores – completely unrivalled, able to make bulk purchases that allowed them to literally pile the goods high, and to sell them cheaply.  Known as "the store of the thrifty, of people who pay as they go" Lewis's is a lifeline for those of even less than modest incomes – but don't be fooled, this wasn't a pile of old tat.  From the beginning, the stores are about the EXPERIENCE of shopping, and crucially, making that experience so rich, full and rewarding, that you would only ever want to do it all under the same roof.  People can meet there, able to obtain morning coffee, afternoon tea or a full restaurant menu.  Musical acts are hired to entertain the shoppers who will often make their purchases across several floors and many many departments, but always be able to stop, take a rest, and even be pampered – beauty parlours and hairdressing salons are available in store, and of course whenever the cash runs low, Lewis's Bank is on hand from 1928 onwards, with six FULL days of banking: 
<![if !supportLists]>· <![endif]>A children's counter to induce in the offspring the same thriftiness as the parent.
<![if !supportLists]>· <![endif]>Generous deposit rates, AND credit interest paid on Current Accounts - unheard of at most banks at this time.
In the days before credit cards and cash machines, the in-store bank really is a most sophisticated marketing ploy. Whilst images of Lewis's Stores themselves remain at a premium, our friends at the Potteries web site have made available to us a number of images relating to Lewis's Department Store Hanley.  We also have a small but growing library of advertisements for Lewis's Department Stores, covering the last 100 years, thanks to our friends at the British Newspaper Archive.  Please do enjoy the images on this page, (but remember that many of them are very much of their time) and you can read more about the changing face of shopping in Hanley on the Potteries site at:  www.thepotteries.org
<![if !vml]>

<![endif]>
<![if !vml]>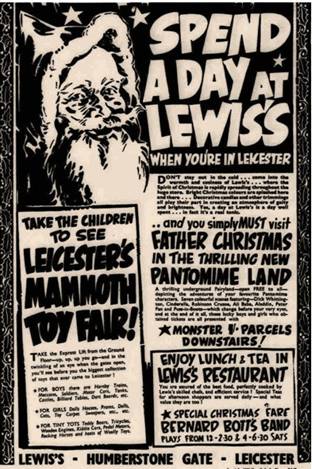 <![endif]>
<![if !vml]>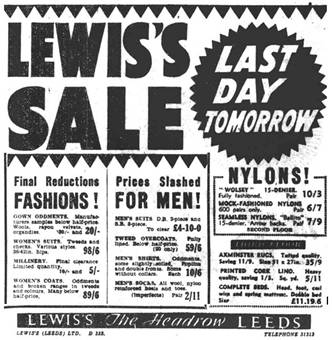 <![endif]>
ABOVE: Typical advertising copy for one of Lewis's "Mammoth Sales" in Leeds.  The original is the full height of a page of broadsheet newspaper!
LEFT: Christmas 1939 in Leicester – no sign of the war which has been underway for several months, and a magical day out for the children.
<![if !vml]>

<![endif]>
Images © Northcliffe Media Limited Image created courtesy of THE BRITISH LIBRARY BOARD
Image reproduced with kind permission of The British Newspaper Archive
www.britishnewspaperarchive.co.uk
<![if !vml]>

<![endif]>
<![if !vml]>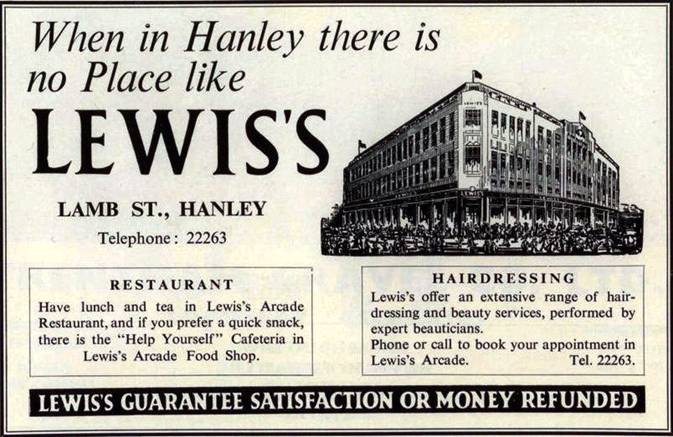 <![endif]>
1957 – Hanley
Image Courtesy www.thepotteries.org
<![if !vml]>

<![endif]>
<![if !vml]>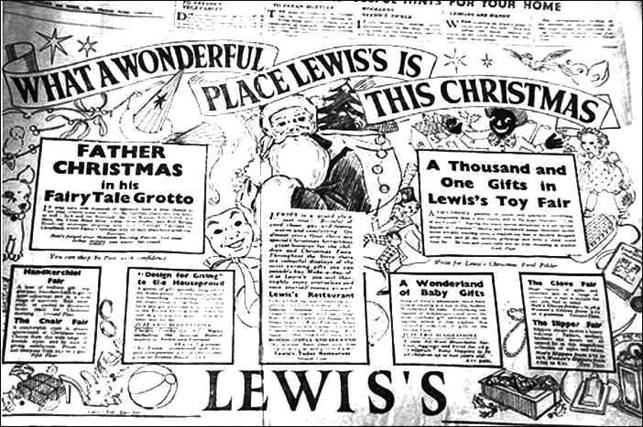 <![endif]>
Date unknown – but who cares, it's Christmas! You can meet Santa in his grotto, and choose
from what are billed as one thousand and one gifts in Lewis's Toy Fair!
 (Nowadays that figure would probably have to be independently verified, as we are unable
to use our imagination in the twenty-first century without a law suit pending)
Image Courtesy www.thepotteries.org
<![if !vml]>

<![endif]>
<![if !vml]>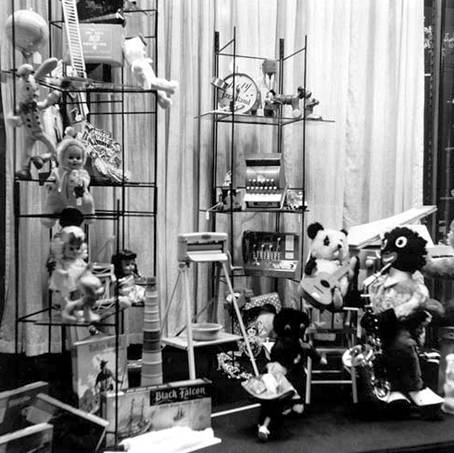 <![endif]>
1967 – Hanley
<![if !vml]>

<![endif]>
Slightly reminiscent of the background displays on BBC Television's "Blue Peter" in the 1960s, this eye-catching window display offers the children of 1967 all they could wish for – including a Robin Hood Set, a drum, a toy cash register and various cuddlies, from dolls a rabbit and a panda to TWO different "golliwogs"!
The racist stereotypes are frightening enough today, but note too how many sexist ones are also very much to the fore – boys will dress up as fantasy fighting characters, whilst girls will practice mothering skills with dolls, and miniature kitchen and laundry equipment. My, how times have changed…