<![if !vml]>

<![endif]>
<![if !vml]>
<![endif]><![if !vml]>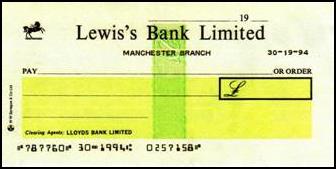 <![endif]>In 1967, Lewis's Bank is sold to Lloyds Bank after only nine years as a subsidiary of Martins.  Thankfully for us, those nine years are fairly well documented by Martins Bank in its staff magazine.  The Black Horse device soon becomes part of the redesigned Lewis's Cheques, and we are very grateful to John Purser of the British Banking History Society, for this image of a very rare Lewis's cheque from his collection. There were further changes to Lewis's Bank, and we asked our friends at Lloyds Banking Group Archive to tell us what happened after Martins sold the bank on…
<![if !vml]>

<![endif]>
<![if !vml]>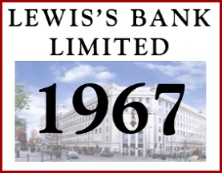 <![endif]>{"Lewis's Bank was bought from Martins by Lloyds Bank in 1967, and continued to be known as Lewis's Bank Ltd  until 25 Nov 1980 when it became "an in-store division of Lloyds Bank".  During that time two more branches of Lewis's opened.  Lloyds Group Archive makes reference to the Weston Favell branch opening in 1977 and records show this branch appears to have closed before 1985.  In the case of the Glasgow branch, a letter dated 1991 informs Lloyds of a name change from Lewis's to Debenhams Glasgow.  The earliest listing of Lewis's Bank under Lloyds ownership in the records of Lloyds Group Archive dates from 1985".}
The branches are listed below along with their Lloyds and former Martins sorting code numbers.
<![if !vml]>

<![endif]>
<![if !vml]>

<![endif]>
<![if !vml]>

<![endif]>
<![if !vml]>

<![endif]>We do wonder what might have happened, had Lewis's Bank still been part of Martins Bank at the time of the merger with Barclays – perhaps it would have been just as curious to see the Barclays logo in the corner of a department store as it was to see that of Lloyds. 
<![if !vml]>

<![endif]><![if !vml]>

<![endif]>
Sadly the march of technology such as cash machines and internet banking, not to mention the long slow death of the British High Street has put paid to all that.  The original Lewis's Department Stores are now too, simply a part of history, one of those quirks of British Life that possibly outstayed their usefulness for just long enough to be loved, and then missed, and finally forgotten.  We have the internet to thank for the wonderful opportunities it gives us, both to re-kindle these memories and to share them with new generations. 
<![if !vml]>

<![endif]>
From the early 1960s the idea that the British currency would be decimalised was proposed, amended and then set in stone for "D-Day" – 15 February 1971.  In this lovely image from late 1970, we see shoppers at a branch of Lewis's Bank queueing up to change their Shillings and Pence into the new decimal coinage. 
<![if !vml]>

<![endif]>
We still don't know the origin of this picture, which for now we will assume to have been taken at the Selfridges Branch of Lewis's in London.  If you can help, please do contact us at the usual address – gutinfo@btinternet.com.  You can read more about our country's conversion to decimal currency, including how Martins is involved in working out which system will be best for Britain, by visiting our sister site www.martinsbank.co.uk and searching for Decimalisation.