<![if !vml]>

<![endif]>EDWARD (TED) SMITH
Ted died last November at the age of 80.  He was a great friend to Joe and me and we were greatly saddened to hear from Pam of his unexpected death.  He belonged to our salad days in the early 1960s when we all worked in 68 Lombard Street amongst a great deal of joshing and laughter.  I sometimes wonder how the serious work ever got done.
John Davies sent me these memories.
Ted joined Martins in 1953 at Cocks Biddulph Branch.  His National Service involved him in the Suez War of 1956, after which he was posted to London District Office.  Whilst there he met Pam, whom he subsequently married and they enjoyed many happy years together.
His next job was as personal assistant to Clifford Whiteley, Joint General Manager.  Following this he returned to District Office as Senior Clerk and in 1966 he was appointed Pro Manager, Loans Department, 68 Lombard Street.
In 1968 Ted was head-hunted by Donald Bardsley, then Head of Banking at Hill Samuel.  Along with several other Martins colleagues he worked there in senior roles for 22 years.   In 1990 TSB took over Hill Samuel and, being awash with money, they instructed them to lend generously.  Ted was then Hill Samuel's Risk Management Director and a skilled and prudent banker.  He elected to retire at the time rather than consent to this recklessness.
Ted was a cricket devotee, a member of the MCC for over forty years, and an expert on Wisden, the Bible of the cricketing world.
Over a year ago Ted suffered multiple muscle failure and his death came after a sudden worsening of his condition in early November.  In his suffering he was comforted by Pam's devotion and our thoughts are with her and their two sons.  Ted was a good friend and the world is poorer with his passing.  May he rest in peace.
BARRY WILLIAMS
Judith Williams (Barry's wife) rang me to say that Barry had died last March.  He was a late entrant to Martins in Manchester, a qualified chartered accountant.  After a time he was transferred to Financial Services at Liverpool Head Office.  Derrick Hanson was his mentor and, at the age of 38, he became a General Manager.  After the merger Barclays transferred him to London, where a Financial Services Department was newly set up along similar lines to Martins.
RICHARD MICHAUD
<![if !vml]>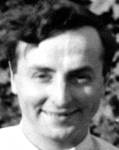 <![endif]>Ennis Michaud rang to advise me of Richard's death on 30 October at the age of 89.  They had regularly come to our functions over the years but lately this had not been possible.  Many members will remember Richard from his time on relief around the north Kent branches.  Ennis told me that at one time he found it useful to do a bit of unofficial 'banking on the bus'.  Apparently customers would notice him daily going to work from Swanley to Aynsford and hand him their paying in slips, trusting, quite rightly, that the money would appear on their accounts just as if they had called in to their branch.  This is another of the many extraordinary quirks of banking at Martins, where going to extremes to be helpful was not a myth at all.
G H DESMOND SMITH
<![if !vml]>

<![endif]>Bill Webb writes:
Although Desmond never joined the Grasshoppers his name will be familiar to many members and I was sorry to hear of his passing in November of last year. Starting at Middlesbrough in 1949 his early days were all spent in the N.E and his first managerial post was at Selby in 1963. Post merger he came to Rose Lane Canterbury where he rapidly gained the confidence of the Local Directors. Thereafter he managed two of the largest branches in the old Maidstone District Rochester and St George's Canterbury. Des was particularly at home amongst the farming community of Kent by whom he was both liked and respected. Following retirement, he once again returned to Yorkshire and finally settled in the delightful town of Helmsley. On behalf of the club I have offered condolences to his widow Brenda and his family