<![if !vml]>

<![endif]>The history of Martins Bank in Kent goes back to the days of "The Grasshopper" - the former  Martin's Private Bank which joins with the Bank of Liverpool in 1918, but a further seventeen are opened in the area between 1920 and 1967. Martins Bank opens a branch in Tunbridge Wells in 1936, in temporary premises at 15 Mount Pleasant Road.  Then there begins a kind of journey along the same road – perhaps inspired by the Grasshopper itself - with a "hop" in 1939 along to new premises at No 28, and in 1965 another "hop" to a very modern building at No 64! 
Whilst we have images of the two later Branches, currently none are available of 15 Mount Pleasant Road.  If you can help with images and or information about this or any of Martins Bank's 970+ Branch buildings, then please do get in touch with us at the usual address – gutinfo@btinternet.com.
<![if !vml]>

<![endif]>
<![if !vml]>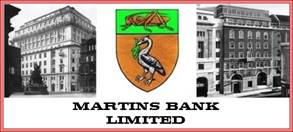 <![endif]>
Kent & Sussex Courier 17 July 1936
Newspaper Image © Northcliffe Media Limited
Image created courtesy of THE BRITISH LIBRARY BOARD
Image reproduced with kind permission of The British Newspaper Archive
www.britishnewspaperarchive.co.uk
<![if !vml]>

<![endif]>
<![if !vml]>

<![endif]>
This cheque from our collection was printed in June 1936 in readiness for use at 15 Mount Pleasant Road Branch during its short time as a Branch of Martins Bank. National numbers, designed to aid in the sorting and clearing of cheques were introduced from the late 1930s and pre-date the more familiar Sorting Code Numbers we have today.
Title:
Type:
Address:
Index Number and District:
Hours:
Telephone:
Services:
Manager:
11-817 Tunbridge Wells
Full Branch
15 Mount Pleasant Street Tunbridge Wells Kent
436 London
Mon to Fri 1000-1500
Saturday 0900-1130
Tunbridge Wells 2564
Nightsafe installed
Mr B S Noakes Manager
Thursday 16 July 1936
1939
Currently
Opened by Martins Bank Limited
Closed and moved to 28 Mount Pleasant Road
Part of Moss Bross – 11 to 15 Mount Pleasant Road
<![if !vml]>

<![endif]>