<![if !vml]>

<![endif]>
<![if !vml]>

<![endif]>Wherever you might find yourself whilst visiting Birkenhead on the Wirral Peninsula, you are never too far from a branch of Martins Bank.  In the Bebington area the Bank has outlets available at Lower Bebington, fondly referred to as "Lower Beb", and Bromborough.  Lower Beb is a self accounting sub-Branch to Rock Ferry Branch, and it survives the 1969 merger with Barclays, staying open into the twenty-first century. 
<![if !vml]>

<![endif]>
It closes its doors for the final time in 2011 after eighty-three years in service. Martins Bank Magazine never visits the Branch, but there is one retirement write-up in the archive, from 1967, that we can use as our feature article for this branch. In a much shorter piece than is usually published when someone hangs up their Bank tie for last time, we learn of the retirement of Mr Othick, who has been Clerk in Charge at Lower Beb for the last twenty-one years…
<![if !vml]>

<![endif]>
<![if !vml]>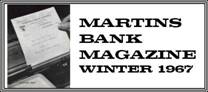 <![endif]>
<![if !vml]>

<![endif]>
<![if !vml]>

<![endif]>at the end of October Mr Othick retired after 46 years' service on Merseyside, almost half of which was spent at Lower Bebington branch where he was appointed Clerk-in-Charge in August 1946. 
<![if !vml]>

<![endif]>
<![if !vml]>
<![endif]>
Image © Barclays Ref 30/1739
It was his wish that there should be no formal presentation, but at a small dinner party given by him and his wife a clock was presented to him from past and present colleagues as a token of their regard. The District General Manager called on Mr Othick on his last day to wish him well in retirement.
Mr K E Buxton
Joined the Bank Here
1939 to 1942
Mrs J  Waterman
Clerk in Charge
1941 to 1946
Mr T L Othick
Clerk in Charge
1946 to 1967
Mr R M Evans
Clerk in Charge
1967 onwards
Title:
Type:
Address:
Index Number and District:
Hours:
Telephone:
Services:
Manager:
11-68-50 Birkenhead Lower Bebington
Self Accounting Sub to 11-24-70 Birkenhead Rock Ferry
182a Bebington Road Lower Bebington  Cheshire
77 Liverpool
Mon to Fri 1000-1500
Saturday 0900-1130
ROCk Ferry 3870
Nightsafe Installed
Mr R M Evans pro Manager
11 May 1928
15 December 1969
18 February 2011
Currently
Opened by Martins Bank Limited
Barclays Bank Limited 20-52-81 Lower Bebington
Closed
?