<![if !vml]>

<![endif]>
<![if !vml]>

<![endif]>
<![if !vml]>

<![endif]>
The Bank of Liverpool and Martins opens Harton as a sub-Branch to South Shields Laygate, in 1923. This must have been the perfect place for a branch bank, as Harton is still servingcustomers in the twenty-first century. It looks as though Martins Bank either owns or leases the whole of the building, with a view to expansion into the side currently used by the chemists shop.   Certainly today's Barclays branch fills the bottom level, as you will see below in our "then and now" feature courtesy of our friends at Google Maps with Street Between Martins' time and now, the address of the building has been changed, from 303a Sunderland Road to 245 Prince Edward Road – all without moving an inch! At the end of the 1960s, and situated in such a busy shopping area, Harton is open for a full six day banking week. The interior photograph may well have been taken after the 1969 merger with Barclays, as the arrangement of cashier positions looks more like one that is used by Barclays until 1974/5. Bandit screen are a fact of life, made essential by an increasing number of armed raids with violence that began in the mid 1960s, reaching a peak in the late 1980s.  Whilst a necessary fact of life in banking, the screens effectively place a barrier between a bank and its customers, and this is adressed by initiative's such as Barclays "Personal Bankers", who freed from contact with any cash, can sit face to face and help customers with their finances.  Today's banking halls are yet ANOTHER world away from the past, with machines looking after the cash, and staff with tablet computers replacing cashiers and just about every other members of staff!
View®. 
<![if !vml]>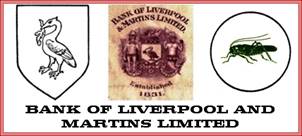 <![endif]>
<![if !vml]>

<![endif]>
Branch Images © Barclays Ref 0030/2741
<![if !vml]>

<![endif]><![if !vml]>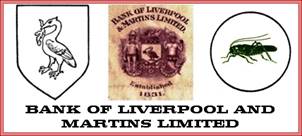 <![endif]>
<![if !vml]>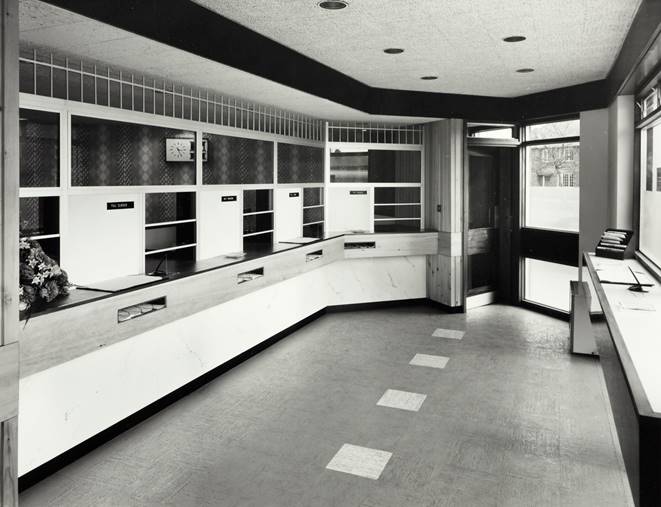 <![endif]>A change of address, the addition of new windows, different door positions and an altogether more drab modern exterior can't disguise the original shape of the Branch at Harton… We wonder what became of the chemist's business?
Title:
Type:
Address:
Index Number and District:
Hours:
Telephone:
Services:
Manager:
11-31-50 South Shields  Harton
Sub to 11-31-50 SOUTH SHIELDS LAYGATE
303A Sunderland Road Harton South Shields County Durham
339 North Eastern
Mon to Fri 1000-1500
Saturday 0930-1130
South Shields 60569
Counter Service Only
Mr E H Jackson Manager (Laygate)
July 1923
3 January 1928
15 December 1969
Opened by Bank of Liverpool and Martins
Martins Bank Limited
Barclays Bank Limited 20-80-48 South Shields Laygate