<![if !vml]>

<![endif]>
<![if !vml]>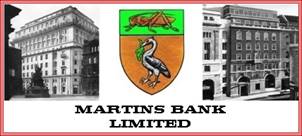 <![endif]>
<![if !vml]>

<![endif]>
When size really does matter…
<![if !vml]>

<![endif]>
<![if !vml]>

<![endif]>A spirit of optimism sweeps over Martins in the mid-fifties, and cements the Bank's presence in that most important of financial centres, London.  Breathtaking sums are spent on new premises, and even more on raiding the world's stocks of Marble and expensive wood, to create interiors to die for.  The top designers of the day don't come cheap either, commissioned in their droves to help Martins make a big splash in the puddle of banking.  These are the days when cut-throat competition consists of bragging to the wealthy, utilising snob value to the maximum, and employing "bling" before it becomes the preserve of the not so well off.  Women still "know their place", children only "speak when spoken to", and everything "runs like clockwork". As Mr MacMillan says – "You've never had it so good".  London already has a huge network of Barclays Branches, so at the time of the merger in 1969, Martins Bank Brompton Road is surplus to requirements, and the Business transfers to the Barclays Branch at Knightsbridge Gardens. In happier times, Martins Bank Magazine visits the new office at Brompton Road, and excites itself over "the appreciable drift of business from Mayfair".  The branch is described in glowing terms, albeit with the occasional misguided superlative -
<![if !vml]>

<![endif]>
<![if !vml]>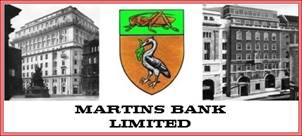 <![endif]>
Image © Barclays Ref 0033/0112
 "The wood panelling of the manager's room and the customers' space has been painted a pleasing shade of grey" (!)  We couldn't resist using as a heading below, the closing phrase from the article, which describes Brompton Road as:
<![if !vml]>
<![endif]>
"The most heartening evidence of our Bank's virility and progress"…
<![if !vml]>

<![endif]>
<![if !vml]>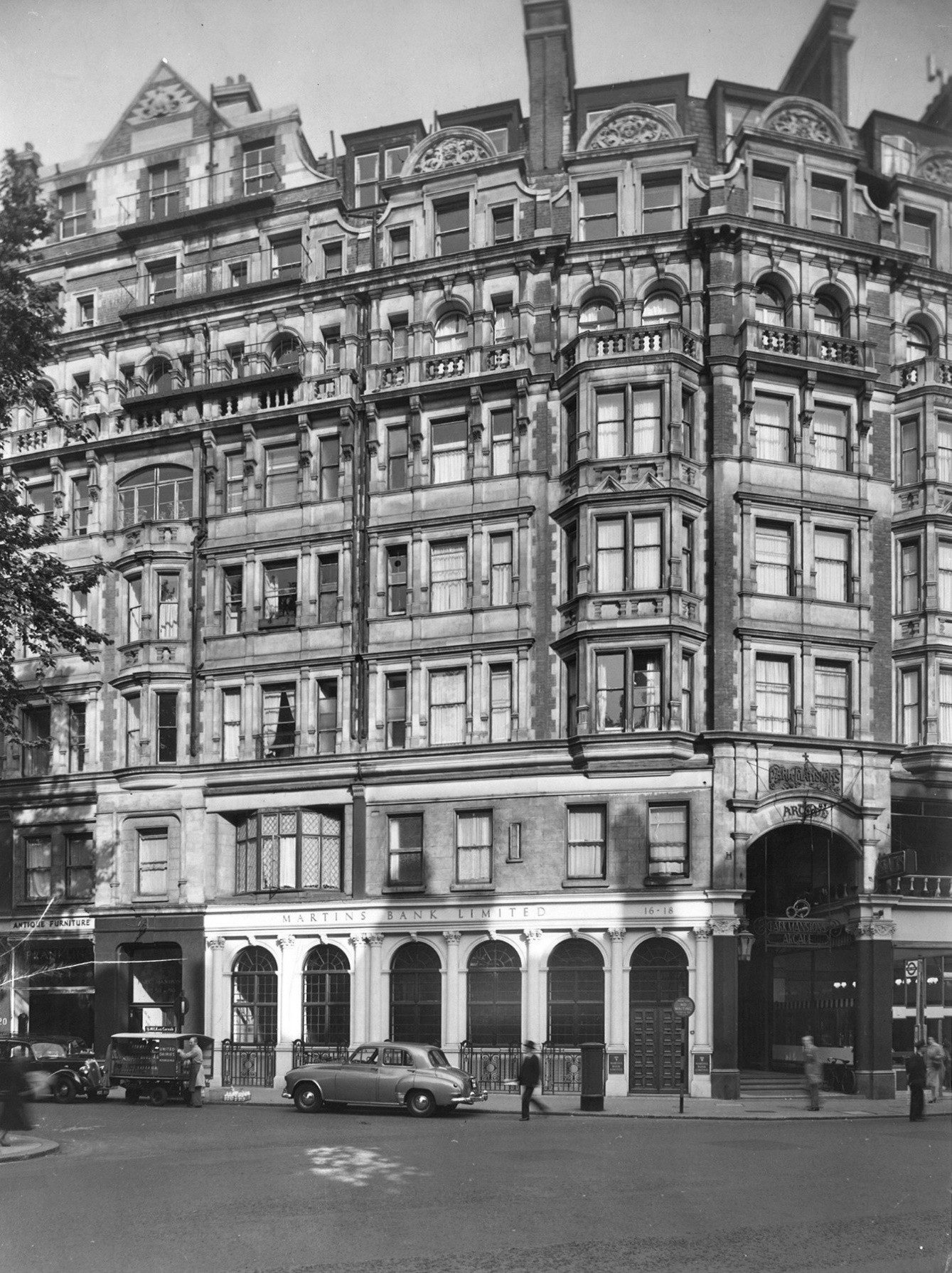 <![endif]>Our first thought on entering our <![if !vml]>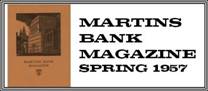 <![endif]>new branch at Brompton Road was one of speculation concerning the reasons for opening in this par­ticular part of London. It so happens, however, that this is a developing district and there is an appreciable drift of business to it from the direction of Mayfair. A lot of important building is going on and there is every indication that our branch, well sited near Knightsbridge, has a very pros­perous future. Our opportunity to commence business here came when one of the other banks with three branches close together housed them all in one big new branch and we were able to acquire the premises which have been modernised and equipped in contemporary style.
Although not so far from the traditional as our new branches at Tottenham Court Road, Agricul­ture House and Golders Green the branch at Brompton Road can hold its own with them in its own way. The wood panelling of the manager's room and the customers' space has been painted a pleasing shade of grey; the wood of the counter is stained and polished a light, rich, warm brown, and the fluorescent lighting is concealed behind flat pendants, suspended several inches below the level of the ceiling. The branch is light and roomy and has a welcoming air about it, which, after all, is the effect we are trying to produce. It was a great pleasure to us to meet the Manager, Mr. R. Gilbert, again, and to be able to entertain him and Mrs. Gilbert to lunch. We last met them officially in 1952 when he was Manager at Portsmouth, and we had much to talk about. Being Londoners, happy though they were in Portsmouth, they are delighted to be back again and to have the stimulus and challenge of being entrusted with the job of opening and making a "go" of their second new branch. Mr. T. Blossom, too, is an old friend. He was at Oxford when we paid our official visit to that branch several years ago and, as second-in-command at Brompton Road, he is applying himself to the job with enthusiasm. Due to the unexpected lapse of time between our visit to the branch and its subsequent featuring in the Magazine, the photograph is now a bit of a back number. Mr. N. Deane, a young man of considerable charm of personality, has now taken a step up and is second-in-command at Guernsey. He should go a long way.
<![if !vml]>

<![endif]>
<![if !vml]>

<![endif]>
Miss R. Russell left the Bank the day after our visit to take up a post at the offices of the National Union of Bank Employees and has been replaced by Miss S. C. Simonetti, a very charming young lady who has only been in the Bank a short time. We were glad to have the pleasure of meeting her. Mr. Deane's successor had not been appointed at the time of our visit and so we were sorry not to meet him. He is Mr. E. G. Cole. After lunch Mr. and Mrs. Gilbert took us for a short walk in the vicinity of the branch, in order to get our bearings and size up the place. The excellent shopping district includes Harrods and smaller shops of obvious quality, only a minute or two from our branch, and Knightsbridge tube station is just a short distance down the road. The opening of branches such as this strengthens our representation in the London District in no uncertain fashion and provides most heartening evidence of the Bank's virility and progress.
<![if !vml]>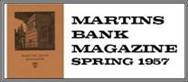 <![endif]>
<![if !vml]>

<![endif]>
<![if !vml]>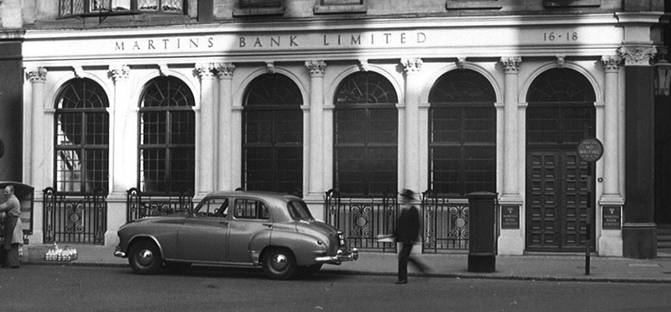 <![endif]><![if !vml]>

<![endif]> At Brompton Road branch on November 21 a man snatched £99 in £1 notes from a customer cashing a cheque. As he ran from the office the cashier, Mr G. E. C. Chivers, leapt over the counter followed by Mr Moore and Mr Faiers. They pursued him up the arcade alongside the branch and across Knightsbridge where a member of the public Joined in the chase and, together with Chivers and Moore, brought the thief down. Two policemen were quickly on the scene and the man was subsequently sentenced to two years' imprisonment. The three members of the staff were later pre­sented with inscribed gold watches by Mr J. H. Keswick, Chairman of the London Board. Mr M. S. Bloomfield who assisted them was awarded a cheque by the Committee of London Clearing Bankers. The photograph shows from left: Mr J. D. Winckles, Mr H. Taylor, Mr W. P. Moore, Mr P. D. Faiers, Mr G. E. C. Chivers, Mr J. H. Keswick and Mr L. J. Walton.
<![if !vml]>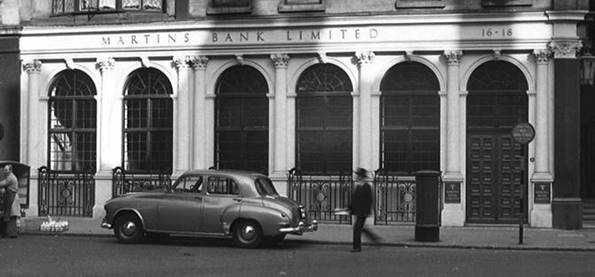 <![endif]>
Mr R Gilbert
Manager
1954 to 1967
Miss R Russell
On the Staff
1956
Mr N Deane
On the Staff
1956
Mr T Blossom
On the Staff
1956
Mr P C Twitchen
On the Staff
1959 to 1962
Mr T J P Hart
Manager
1967 onwards